NBC Insider Exclusive
Create a free profile to get unlimited access to exclusive show news, updates, and more!
Sign Up For Free to View
Issa Rae Tried to Be the Best Aunt Ever and It Went Hilariously Wrong
Rae also played a round Flip Shots with Paris Hilton during her visit to The Tonight Show Starring Jimmy Fallon. 
Issa Rae is a talented, busy woman—the actress and writer's most recent project is a Prosecco line called Viarae, for one—and she's also a self-described "proud auntie" to five kids. As Rae shared in a visit to The Tonight Show Starring Jimmy Fallon, her attempt to help her 5-year-old nephew recently backfired in a funny way. 
Rae told Host Jimmy Fallon that it all started when her nephew's school held a fundraising competition. "My sister hits up and is like, 'they're selling popcorn at the school and the kids are competing against each other," she said. "And I just—I really want him to win."
Rae explained that her sister simply asked her to make a purchase and spread the word, but spurred on by their brother, "I'm getting in the competitive spirit, too." So they hatched a plan: Rae would swoop in right at the sales deadline to make a major popcorn purchase, thus cementing her nephew's #1 spot.
"I set it all up, hit the purchase button right at 4:59:59," Rae told Fallon. That's when she realized, after hitting the button, that she'd accidentally sent her money to a rival 4-year-old.
"So the family group chat is going crazy," Rae said. "They're like, 'how could this happen?! Parent's are so greedy! People take this too seriously!' And...I'm dead silent."
RELATED: Paris Hilton Just Announced a Sia-Produced Album on The Tonight Show
Watch Rae explain how she resolved the situation in a truly sitcom-like way in the clip above. 
Issa Rae and Paris Hilton play "Flip Shots" on The Tonight Show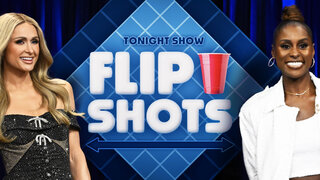 Rae later flexed her competitive side in a round of "Flip Shots" with fellow guest Paris Hilton, Jimmy Fallon, and The Roots vocalist Black Thought. In this Tonight Show game's twist on flip cup, there are three kinds of shots: Liquid popcorn butter, maple syrup, or hot dog water. Yum!
"Do you have any Grey Goose?" Hilton asked, before making her selection.