NBC Insider Exclusive
Create a free profile to get unlimited access to exclusive show news, updates, and more!
Sign Up For Free to View
How to Watch The George Lopez Show
This classic show has a new sister series premiering on NBC this fall.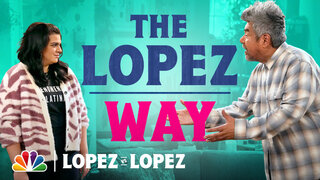 One of television's most beloved comedians, George Lopez, is returning this fall with a new sitcom, and we can't wait. Lopez vs Lopez premieres Friday, November 4 at 8/7c on NBC, and it stars George and his daughter, Mayan Lopez. 
There's no doubt this duo will make for a stellar comedic team. According to NBC's series breakdown, audiences can expect to see "a working-class family comedy about dysfunction, reconnection, and all the pain and joy in between."
The show is set up to be a fictitious version of George and Mayan's father-daughter relationship, bringing relatable family dynamics to the forefront with a playful, comedic spin. However, the heartfelt nature of the show isn't lost on Mr. Lopez, and it's an element he hopes resonates with viewers, as well. "Hopefully, people who watch get motivated to mend some fences," George previously told TV Insider.
Alongside George and Mayan, the main cast will also include Selenis Leyva (Mayan's mother), Matt Shively (Mayan's boyfriend, Quinten), Brice Gonzalez (Mayan and Quinten's young son, Chance), Laci Mosley (Mayan's friend, Brookie), and Kiran Deol (Dr. Pocha, the veterinarian). Can't wait for the premiere? No worries. The George Lopez Show is available to stream right now if you need to get your George Lopez comedy fix in. See how to do that, below. 
How to watch The George Lopez Show
The George Lopez Show can be streamed on Peacock. 
How to watch Lopez vs Lopez
Starting November 4, the show airs Fridays at 8/7c on NBC and next day on Peacock.