NBC Insider Exclusive
Create a free profile to get unlimited access to exclusive show news, updates, and more!
Sign Up For Free to View
Where to Watch NBC's Parks and Recreation
It's never been easier to catch up with Leslie Knope and the gang.
Everyone has a favorite comfort show they can rewatch again and again. For fans of humor and small town shenanigans, it's the NBC comedy series Parks and Recreation. 
The mockumentary-style series starring SNL alum Amy Poehler as the endlessly-optimistic Leslie Knope has a special place in fans' hearts. The show centered on all of the shenanigans that Knope and her fellow employees at the Parks and Recreation Division in Pawnee, Indiana got into.
Every Parks and Recreation fan has a favorite episode, whether it's the Snake Juice or Lil' Sebastian ones — and where would we be today without the "Treat Yo' Self" ideology? (Yes, we have Parks and Recreation to thank for that, too.) 
Starring Nick Offerman, Aubrey Plaza, Chris Pratt among others alongside Poehler, the Parks and Recreation cast is comedy gold. 
Where can I watch NBC's Park and Recreation?
Rewatch all seven seasons of Parks and Recreation on Peacock now.
Peacock also features longer "Producer's Cut" versions of the episodes, and has plenty of Collections where fans can hone in on one particular topic (i.e. Pawnee's Foodies). If you're not currently subscribed to Peacock, you can enroll in Peacock Premium for just $5.99 per month. 
How many seasons of Parks and Recreation are there?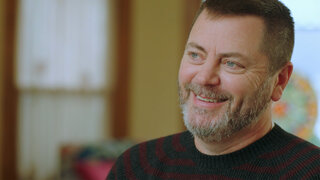 When did Parks and Recreation end?
The series finale of Parks aired in February 2015. Season 7, Episode 12 ("One Last Ride") showed clips of the entire cast in 2017, giving audiences a glimpse into the future for the beloved Pawneeans. 
RELATED: April Ludgate's Most Memorable Moments on Parks and Recreation
The show's pilot episode aired in April of 2009, meaning it ran on NBC for just under six years. 
When did the Parks and Recreation reunion special air?
Long after the show's series finale, the cast reunited in a virtual special, made to bring levity to the world as everyone went into quarantine for the Covid-19 pandemic. The show was broadcast on April 30, 2020 and served as a fundraiser for Feeding America's COVID-19 Response Fund. 
The special showed each familiar character as part of a large phone tree Leslie had set up so that they could all check in on each other. 
Parks and Recreation Award Nominations
Don't just take it from us — Parks is such a beloved show that it got plenty of awards nods during its time. 
The show was nominated for 14 Emmys, including Outstanding Comedy Series twice and Outstanding Lead Actress in a Comedy Series six times for Poehler. The show was also nominated in categories like Outstanding Sound Mixing and Outstanding Writing for a Comedy Series. 
Stream all episodes of Parks and Recreation on Peacock. 
This story was originally published on July 15, 2022. It was updated August 9, 2023.