NBC Insider Exclusive
Create a free profile to get unlimited access to exclusive show news, updates, and more!
Sign Up For Free to View
What Are Scare Zones at Halloween Horror Nights?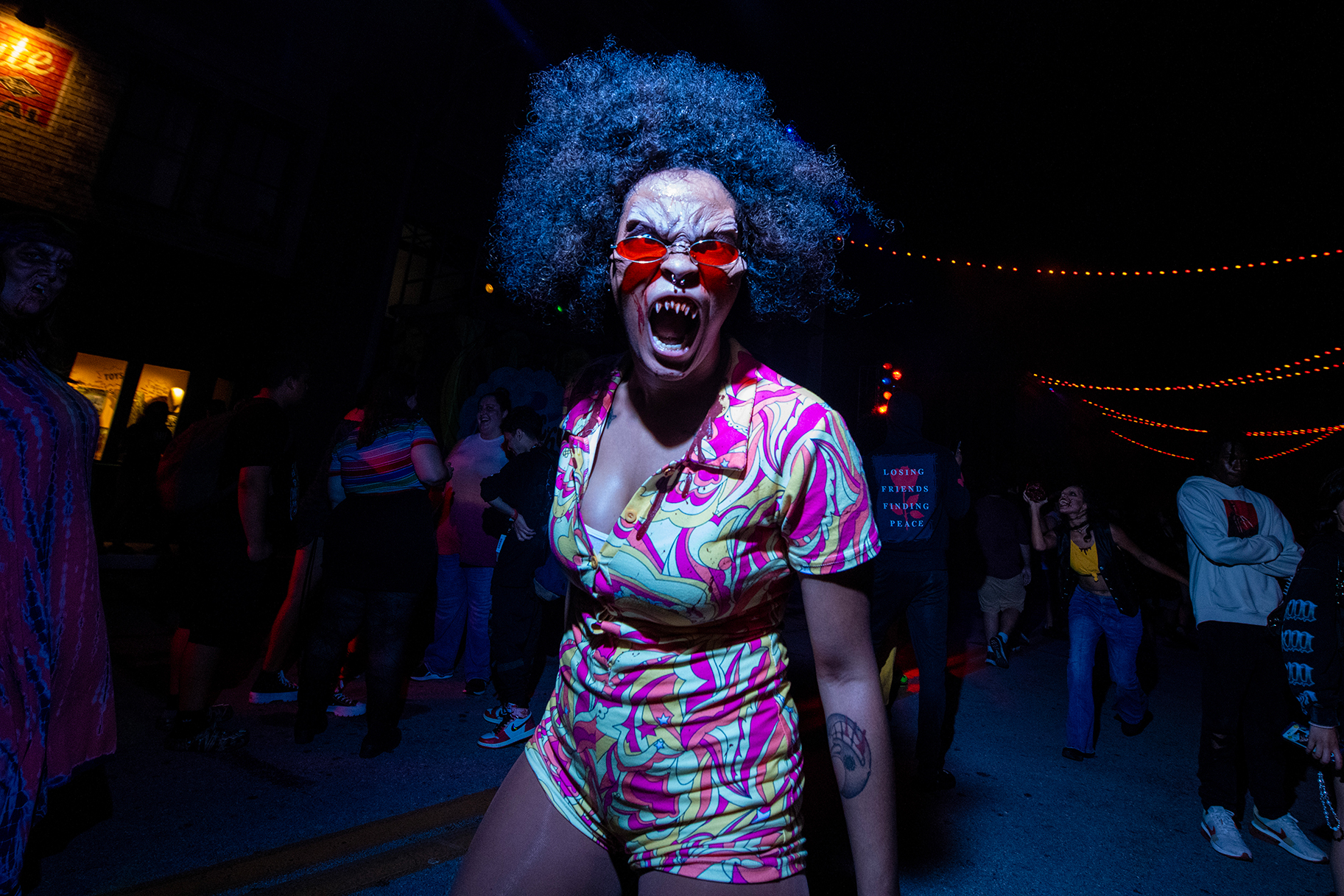 If you love the fall because it represents the scaring season, then you're probably looking for Halloween themed events that will get your heart pumping and your vocal cords warmed up. If you're near Universal Studios Hollywood or Universal Studios Orlando, both theme parks are currently ready to amp up your Halloween feels with their Halloween Horror Nights events. 
Halloween Horror Nights is a bespoke, annual, nighttime event catering to horror-lovers featuring live, interactive scares inspired by some of the most-loved horror film and television franchises ever made. It is a separate ticket from the normal them park ticket. HHN is also only operational during the fall, from September leading up through and then ending right after Halloween (exact timing depends on the specific park). With your ticket, you get access to a variety of walk-through haunted houses, live entertainment (varied per park) and Scare Zones. 
What's a Scare Zone at Halloween Horror Nights?
Both Universal Studios Hollywood and Universal Studios Orlando are hosting Scare Zones which are specifically themed areas featuring dressed actors whose sole purpose is to interact with you, up close and personal. In Orlando, the Scare Zones include: "Dr. Oddfellow's Collection of Horror," "Dark Zodiac," "Jungle of Doom: Expedition Horror," "Vamp '69: Summer of Blood," and "Shipyard 32: Horrors Unhinged."
While in Hollywood, the Scare Zones include: "El Terror de las Momias," a "Toyz" scare zone and "Ghostz" at the entrance of the park featuring a horde of blood-soaked, chainsaw-wielding ghosts.
How Do I Navigate a Scare Zone at Halloween Horror Nights?
Individual Scare Zone locations are featured on the Universal Studios App for each theme park. Unlike haunted houses, there are no formal admission lines. Instead, you can just wander into a Scare Zone — which is a themed out and dressed section of the existing park — and hopefully, make it out alive (insert ominous cackle). 
The good thing about Scare Zones is that no one is going to touch you, and you can leave whenever you want. For instance, if you think you're up for whatever a Zone has to shell out in terms of scares and then you realize you've made a horrible mistake, just turn around and walk out. No one will drag you back into a Zone, and the dedicated actors don't wander outside of their themed areas. That's not to say that you won't encounter some individual scare actors in other promenades and walkways, but not with the same intensity as those populating the actual Scare Zones. 
Halloween Horror Nights 2023 is going on now at Universal Orlando Resort through Saturday, Nov. 4. Universal Studios Hollywood is letting in the ghouls through Tuesday, Oct. 31. You can peruse all ticketing packages right here.