NBC Insider Exclusive
Create a free profile to get unlimited access to exclusive show news, updates, and more!
Sign Up For Free to View
Gwen Stefani and Pink Teamed Up for Two London Concerts This Summer
The two music superstars celebrated one another and their decade-long friendship during two epic performances.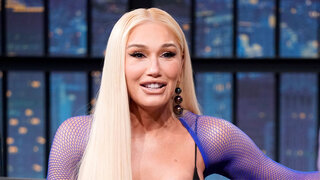 Gwen Stefani joined fellow rock star Pink on stage this summer! 
On June 24 and 25, Stefani accompanied the "So What" singer for two shows in England. The occasion was the British Summer Time concerts at Hyde Park in London, and the shows were a part of Pink's Summer Carnival Tour in the U.K.. 
Stefani opened up her BST set with a performance of her 2007 smash hit "Sweet Escape," instantly getting the crowd hyped. Hyde Park attendees were blown away by the surprise appearance, which also featured a cameo by Eve on their duet, "Let me Blow Ya Mind," many of No Doubt's hits, and closed with a performance of Stefani's song "Hollaback Girl," which she co-wrote with Voice coach Pharrell Williams.
Check out a highlight from Stefani's magnetic Hyde Park performance, here. 
We couldn't wait to see what exciting performances Stefani and Pink would create together in London, because when they joined forces for a song back in 2012, it was totally awesome.
Gwen Stefani and Pink's 2012 iHeart Radio Concert
At the iHeartMusic Festival event that year, they performed a rendition of the No Doubt classic "Just a Girl," and sheer badass-ery ensued. During their duet, Stefani handled the first few bars before inviting Pink to come onstage, causing the crowd to go wild. They then jumped around energetically, their edgy voices blending together perfectly.
Pink's Duets with Kelly Clarkson
This hasn't been the only time Pink has collaborated with a The Voice Coach: She shared the stage with Kelly Clarkson at the 2017 American Music Awards, performing a duet of REM's "Everybody Hurts."
And in February 2023, Pink appeared on The Kelly Clarkson Show to sing a rendition of her 2012 hit "What About Us" with Clarkson, and their two powerful voices were overwhelmingly moving as they belted together. 
Before the gripping acoustic performance, Pink opened up to Clarkson about what the song means to her and why she chose to write it. 
"So, it has a greater social meaning, and you can tell in the lyrics, but where were you at when you were sitting down thinking about writing that?" Clarkson inquired thoughtfully.
"We're not listening to each other right now. And it's so loud and so gross and angry, and people are being forgotten," Pink responded, elaborating on the song's admirable message. "People are being counted out, and their rights are being trampled on just because a group of people doesn't believe in them. I don't understand how so many people in this world are discounted because one group of people decided they don't like that. And I won't have it." 
She continued, "One of the most beautiful things that my dad taught me was that my voice matters, and I can make a difference. And I will. One person can change a lot. I think if we all had the chance to experience each other more, it would be a lot different." 
This story was originally published on June 16, 2023. It was updated July 3, 2023.