NBC Insider Exclusive
Create a free profile to get unlimited access to exclusive show news, updates, and more!
Sign Up For Free to View
Dwayne Johnson's Best Moments on SNL
Johnson is a true national treasure.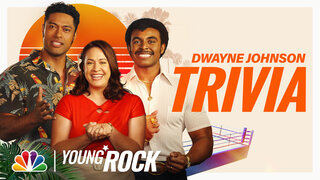 Whether warming hearts on Young Rock or keeping fans on their toes with his vast catalog of action movies, Dwayne "The Rock" Johnson has become a permanent fixture in entertainment. Based on his charisma, presence, and iconic persona alone, it's no surprise Johnson has hosted Saturday Night Live a whopping five times. Since his first appearance on the sketch comedy show in 2000, here are some of Johnson's best moments on SNL to date. 
"New Disney Movie"
Even live-action Disney movies aren't safe from a proper roast! In this spoof trailer, Johnson is introduced as the star of a Bambi remake that's been reimagined as a high-octane revenge film. To up the ante, Johnson's Fast & Furious co-stars Vin Diesel (Taran Killam), Tyrese Gibson (Jay Pharoah), and Michelle Rodriguez (Cecily Strong) come together for an action-packed trailer that is so funny, you'll wish the movie was real!
"Scorpio"
As a city burns under the tyranny of a supervillain named Maximilian, Scorpio arrives to save the day! The only problem? The mayor (Cecily Strong) and her office staff (Aidy Bryant and Sasheer Zamata) can't get past the fact that the hero made his own costume.
"The Rock Obama Cold Open"
This memorable sketch started with a routine meeting between then-president Obama (Jay Pharoah) and Congressmen Ted Cruz (Bobby Moynihan), John Boehner (Taran Killam), and Tom Cotton (Kyle Mooney). Fed up with the escalating antics of the trio, Obama makes a dramatic transformation into his alter ego "The Rock Obama," played by Johnson.
"The Rock Monologue: WWF Stars Stop By"
Drawing from his past as a WWE powerhouse, Johnson stars alongside Bobby Moynihan in what starts as a standard promo video. Before long, the duo is hurling wild insults at each other as the one-upmanship is taken to absurd heights.
"Dinner Date"
Johnson depicts a beefy stereotypical wrestler in another WWE-inspired sketch! This time, Johnson and his British girlfriend (Cecily Strong) can't help but hover while another couple (Vanessa Bayer and Kenan Thompson) try to enjoy their anniversary dinner. As you can imagine, chaos ensues.
"World's Most Evil Invention"
Johnson proves that in addition to playing the good guy, he also excels as a mad scientist. Watching him compete against his fellow cohorts (Beck Bennett, Kyle Mooney, and Sasheer Zamata) to make the evilest invention is beyond entertaining. 
Watch Young Rock on NBC Fridays at 8:30/7:30c and next day on Peacock.