NBC Insider Exclusive
Create a free profile to get unlimited access to exclusive show news, updates, and more!
Sign Up For Free to View
Where to Watch Dolly Parton's Christmas Movies This Holiday Season
The iconic country queen is excellent at spreading holiday cheer. And these three movies prove it.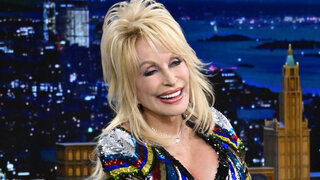 NBC's 2023 holiday programming includes not one, not two, but three airings of beloved Dolly Parton Christmas movies. They're titled Dolly Parton's Coat of Many Colors, Dolly Parton's Mountain Magic Christmas, and Dolly Parton's Christmas of Many Colors: Circle of Love. 
Below, read everything you need to know about the films — and how to watch. 
Dolly Parton's Coat of Many Colors
Airs on NBC December 15 at 8/7c 
This film is based on Parton's remarkable upbringing. It takes place inside the tight-knit Parton family as they struggle to overcome devastating tragedy and discover the healing power of love, faith, and a raggedy patchwork coat that helped make Parton who she is today. It stars Jennifer Nettles, Ricky Schroder, Gerald McRaney and Alyvia Alyn Lind.
RELATED: Reba McEntire Says Dolly Parton Can Only Be Contacted Through 1 Unusual Way
Dolly Parton's Mountain Magic Christmas
Airs on NBC December 21 at 9/8c 
Set in Dollywood, Parton's amusement park in the Tennessee Smoky Mountains, Dolly Parton's Mountain Magic Christmas  tells the backstage story of making a network TV special. This sentimental holiday movie takes viewers on a journey through time as Parton is visited by the Three Wise Men. The entertainer is taught valuable lessons, ultimately challenging her notions of the real magic of Christmas.  
This special has a powerhouse cast, including Tom Everett Scott, Ana Gasteyer, Angel Parker, Willie Nelson, Jimmy Fallon, Billy Ray Cyrus, Miley Cyrus, Zach Williams, Jimmie Allen, Mary Lane Haskell, Bryan Batt, Brendan Bradley, John Newberg, Rachel Parton George, Cassie Parton Griffith, Rhoda Griffis, Liam Rauhoff, and Steve Summers. 
RELATED: Revisit Miley Cyrus' Famous Cover of Her Godmother Dolly Parton's Hit "Jolene"
Dolly Parton's Christmas of Many Colors: Circle of Love
Airs on NBC December 22 at 8/7c  
This movie tells the next chapter in the life of young Dolly Parton. The film delivers Christmas joy and peril as an unexpected blizzard threatens the Parton family, while at the same time Dolly's father (and his kids) make sacrifices to raise enough money to finally buy his loving wife the wedding ring he could never afford to give her. Meanwhile, an important person in little Dolly's life begins to see that her amazing voice and musical gift might just be made for something bigger than rural Tennessee.
Originally published Oct 31, 2022.