NBC Insider Exclusive
Create a free profile to get unlimited access to exclusive show news, updates, and more!
Sign Up For Free to View
How to Watch Deal or No Deal Island, Hosted by Joe Manganiello
Here's when the new Deal or No Deal series, hosted by Joe Manganiello, premieres.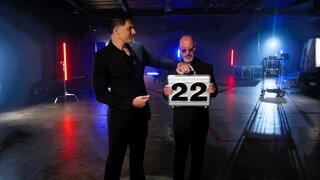 The central tension in Deal or No Deal is whether a briefcase contains a massive sum of money or a paltry fee — and there's no way of knowing until you open the case up. Luckily, there's no uncertainty when it comes to finding out what time the new series Deal or No Deal Island premieres and where you can watch it. Here's what you need to know to see the show, hosted by Joe Manganiello.
When do new episodes of Deal or No Deal Island premiere?
Deal or No Deal Island will premiere with a 90-minute special at 9:30 p.m. on Monday, February 26, 2024. Following this supersized first episode, subsequent episodes will air on its regularly scheduled timeslot starting on Monday, March 4 at 10 p.m.
RELATED: How Carnegie Mellon Grad Joe Manganiello Went from Spider-Man to Deal or No Deal Island
The original U.S. Deal or No Deal (itself an adaptation of a Dutch game show) ran from 2008 to 2019. In each episode, contestants would pick gold briefcases, each containing a cash value between one cent and a million dollars, to eliminate. The goal of the game was to, by luck, eliminate all the less valuable cases, leaving only the massive figures inside. Then contestants could either take a deal from the Banker, an enigmatic figure who offers a cash amount for the player to accept and give up — or they could test their luck and hope they ended up with only a lucrative case left. 
How does Deal or No Deal Island work?
Deal or No Deal Island is slightly different. It's a season-long endeavor, and 13 players will compete for huge amounts of cash. Here's the official synopsis for the series:
"In each episode, players vie to get their hands on the highest-value briefcase for a chance to gain immunity and choose a fellow player to enter The Temple, where they must play a high-stakes game of Deal or No Deal. The devious Banker is always watching and will raise the stakes with tests of strategy and greed. At the end of the season, the last player standing will face the Banker to potentially win the biggest prize in Deal or No Deal history."  
RELATED: Deal or No Deal is Back with an Island Twist — and Joe Manganiello as Host
Manganiello, the star of True Blood and Magic Mike, takes over hosting duties from Howie Mandel, the host of the original series. Mandel remains an executive producer on the new series, however.  
Deal or No Deal Island premieres on Monday, Feb. 26 at 9:30 p.m., and the remaining episodes will air on the following Mondays at 10 p.m. Watch the original Deal or No Deal on Peacock.