NBC Insider Exclusive
Create a free profile to get unlimited access to exclusive show news, updates, and more!
Sign Up For Free to View
Camila Cabello and John Legend Had a Full Bestie Battle Over 'Cool Cat' Chello
Cabello even said she'd "get down on [her] knees to beg" to get this Contestant on her team.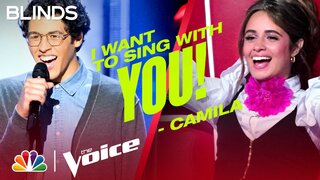 The Voice Coaches Camila Cabello and John Legend went head-to-head over a promising Blind Audition. Twenty-two-year-old Chello performed a smooth and soulful rendition of "Just the Two of Us," which got simultaneous turns from both Legend and Cabello. When it was time for the two to both try to convince the singer to join their team, Coach Blake Shelton dropped an interesting comment.
"I literally don't think John can beat Camila," he said.
"That's, like, the nicest thing you've ever said to me," responded Cabello, clearly flattered.
Cabello then used her most convincing tactics so sway Chello by giving detailed feedback on his vocal style. "The fact that you could make it so cool without any riffs or runs at first, it was just your tone. And then you did this, like, crazy run at the end," she commented. "I could just really picture listening to your records in the car." She also called him a "cool cat," which is accurate. 
"Your voice is so different and interesting," Legend said when it was his turn to speak. However, Cabello won another point with Chello when she said she had written with Jon Bellion, an Artist Chello mentioned he is highly inspired by.
But that wasn't enough to make Legend give up. He connected with Chello's shared roots of singing in a church setting, highlighting the significance of bringing "energy and joy" to a group of people.
Trying to steal Legend's thunder, Cabello brought on the praise yet again. "What I see in you I see in so many of my favorite Artists," she said, trying to get the last word in.
Her method ended up paying off, as Chello ultimately chose Cabello to be his Coach. Looks like Shelton's comment turned out to be on point! To see what other talented vocalists join Cabello's team, watch The Voice on NBC Mondays and Tuesdays at 8/7c and next day on Peacock.