NBC Insider Exclusive
Create a free profile to get unlimited access to exclusive show news, updates, and more!
Sign Up For Free to View
Watch Bradley Whitford Find Out His Great-Great-Grandfather's Role in the Civil War
"Same day. Big day. All the men are going away."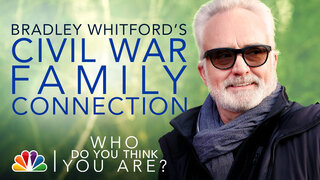 On the August 7th episode of NBC's Who Do You Think You Are?, actor Bradley Whitford makes a surprising discovery: that his great-great-grandfather was a Union soldier in the Civil War. And not just his great-great-grandfather: his two great-great-uncles, as well. 
As fans know, Who Do You Think You Are? is a show in which celebrities, with the help of genealogists, track their family lineages and make discoveries—often shocking ones. In Whitford's case, he point-blank says in the episode, "I had no idea that my great-great-grandfather fought in the Civil War. It never came up. I can't believe it." 
Frederick New was Whitford's great-great-grandfather. He enlisted into the Union army when he was 29 years old on August 14,1862 for three years. New volunteered to fight in the war; he wasn't drafted. Documents showed that Frederick's brothers, John New and Valentine New, also enlisted into the army, both on August 14, 1862. They were 21 and 26, respectively. 
"Same day. Big day. All the men are going away," Whitford says as he uncovers this information. 
"Do you have anything about my great-great grandfather in the Civil War?" Whitford inquired earlier in the episode to the historian looking into his case: Dr. Joseph Beilein, an associate professor of history at Penn State Behrend, "I'm hoping he's on the right side of history." 
Later, Whitford muses, "That must be an intense [thing, enrolling into the army]. I have two brothers. Walking in the same day." Dr. Joseph Beilein confirmed that was actually common: for brothers to all go together to sign up for the army. 
For more details on Whitford's family, check out his Who Do You Think You Are? episode Sunday, August 7 at 7/6c on NBC.
Watch Who Do You Think You Are? on NBC Sundays at 7/6c and next day on Peacock.