NBC Insider Exclusive
Create a free profile to get unlimited access to exclusive show news, updates, and more!
Sign Up For Free to View
Watch Allison Janney Discover Surprising Info About Her 11-Times Great-Grandfather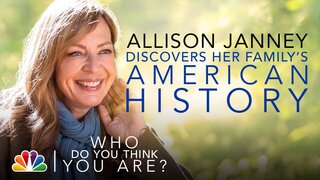 Allison Janney is an accomplished actress with both an Oscar and several Emmys to her name. (She also has two Tony nominations to boot.) You know her for playing characters like C.J. Cregg on The West Wing and Bonnie on Mom, but the role she plays in the July 24th episode of NBC's Who Do You Think You Are? is more personal: She plays herself—and she's on a mission to discover her family's history. 
That is, after all, what Who Do You Think You Are? is all about. The long-running series sees celebrities investigating their lineages with the help of genealogists—and more often than not, they discover something surprising or interesting. 
"I want to find out, once and for all, what part my ancestors played in history," Janney says in a preview for her episode (watch above). "I always wanted to know if our family came over on the Mayflower, if I'm a daughter of the American Revolution, who my ancestors were, what did they contribute to America? I'm hoping it's 'gonna be good things so I can feel a sense of pride, and I can brag at cocktail parties." 
Janney gets those answers—and more—in her episode of Who Do You Think You Are?. Thanks to a tree built on Ancestry.com, the I, Tonya star gets the lowdown on her mother's side of the family. The tree takes Janney all the way back to her 11-times great-grandfather, who came to Massachusetts from England in 1609. What's interesting about that, though, is the Mayflower didn't set sail until 1620. So, how did he get here? 
"Holy crap," Janney says upon learning this news. Watch her episode on NBC Sunday, July 24 at 7/6c to find out the rest of the story. 
Watch Who Do You Think You Are? on NBC Sundays at 7/6c and next day on Peacock.