NBC Insider Exclusive
Create a free profile to get unlimited access to exclusive show news, updates, and more!
Sign Up For Free to View
Blake Shelton Taking a Big Chomp Out of a Tree Trunk Is Pure Comedy
"Real men have themselves a slice of 200-year-old sycamore tree."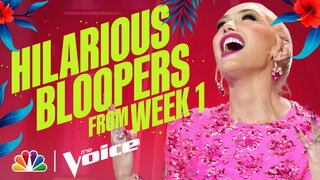 Some days, you just need a good laugh—and today, that laugh is coming in the form of Blake Shelton taking a bite out of a tree trunk. 
OK, so the Voice Coach didn't really use his teeth or swallow the wood, but the comedy is still priceless. In a new TikTok showing behind-the-scenes footage from his "Come Back as a Country Boy" music video, Shelton picks up a tree trunk and says, "Real men have themselves a slice of 200-year-old sycamore tree." He then pantomimes taking a chomp out of the tree and says, "And then you'll superimpose me actually taking a bite." 
Don't worry: Shelton's pearly-whites won't be affected by this gag! It's all in the name of good fun—and his fans are enjoying the joke. 
"Now that's what I'm talking about," one fan wrote in the comments. 
"Blake Shelton is the realest 😂," posted a second. 
And a third commented, "I LOVE YOU BLAKE." 
You'll see Shelton return as a Coach on The Voice Season 22 this fall alongside John Legend, Camila Cabello, and his wife, Gwen Stefani. (The season premieres Monday, September 19 at 8/7c on NBC.) 
"The best part about working with my wife is that I never have to be apart from her," Shelton told NBC Insider about Stefani rejoining him on The Voice. "And she also happens to be one of the least competitive people I know. Being on a competition show with your wife, who is also not competitive, is the greatest situation you can be in."