NBC Insider Exclusive
Create a free profile to get unlimited access to exclusive show news, updates, and more!
Sign Up For Free to View
Blake Shelton Sang a Perfect Country Cover of CeeLo Green's "Forget You"
A performance that the crowd certainly won't ever forget!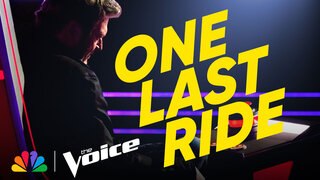 In 2012, Blake Shelton gave a nod to a former The Voice Coach CeeLo Green by covering one of his signature songs, "Forget You," in concert. During Shelton's performance, he sang the witty lyrics with confidence and shook things up by adding a country twang to the melody. The audience sang along eagerly as the drums kicked in and Shelton made his way to the front of the stage. He then hit some impressive high notes during the pre-chorus as he interacted with the crowd. The lights then went dim when the final notes hit, showing just Shelton on the stage. It's so good!
About "Forget You" by CeeLo Green
A massive hit for CeeLo Green, the song reached the Number 2 position on the Billboard Hot 100 and was the best selling song in the U.S. in 2011. It was nominated for four Grammys, ultimately winning for Best Urban/Alternative Performance, an award that was discontinued in 2012 and shifted to Best R&B Performance. 
"Forget You" by CeeLo Green lyrics 
I see you driving around town with the girl I love
And I'm like, "Forget you" (Ooh, ooh, ooh)
I guess the change in my pocket wasn't enough
I'm like: "Forget you and forget her, too"
Said if I was richer I'd still be with ya
Hah, now ain't that some shh? (Ain't that some shh?)
And although there's pain in my chest
I still wish you the best
With a forget you (Oh, ooh, oooh)
Yeah, I'm sorry, I can't afford a Ferrari
But that don't mean I can't get you there
I guess he's an Xbox and I'm more Atari
But the way you play your game ain't fair
I pity the fool that falls in love with you
(Oh shh, she's a gold digger)
Well… (Just thought you should know)
(Ooh) I've got some news for you
("…Yeah, go run and tell your little boyfriend")
I see you driving around town with the girl I love
And I'm like, "Forget you" (Ooh, ooh, ooh)
I guess the change in my pocket wasn't enough
I'm like: "Forget you and forget her, too"
Said if I was richer I'd still be with ya
Hah, now ain't that some shh? (Ain't that some shh?)
And although there's pain in my chest
I still wish you the best
With a forget you (Oh, ooh, oooh)
Now I know, that I had to borrow
Beg and steal and lie and cheat
Trying to keep ya, trying to please ya
'Cause being in love with your… ain't cheap, nah
I pity the fool, that falls in love with you
(Oh shh, she's a gold digger)
Well… (Just thought you should know)
(Ooh) I've got some news for you
("…Ooh, I really hate yo'… right now")
I see you driving around town with the girl I love
And I'm like, "Forget you" (Ooh, ooh, ooh)
I guess the change in my pocket wasn't enough
I'm like: "Forget you and forget her, too"
Said if I was richer I'd still be with ya
Hah, now ain't that some shh? (Ain't that some shh?)
And although there's pain in my chest
I still wish you the best
With a forget you (Oh, ooh, oooh)
Now baby, baby, baby, why d'you wanna, wanna hurt me so bad?
(So bad, so bad, so bad)
I tried to tell my momma, but she told me:
"This is one for your dad"
(Your dad, your dad, your dad)
Yes, she did, and I'm like
Uh! Why? Uh! Why? Uh! Why lady?!
Oh, I love you
Oh, I still love you, ooh
I see you driving around town with the girl I love
"Forget you" (Ooh, ooh, ooh)
I guess the change in my pocket wasn't enough
I'm like: "forget you," and forget her, too
Said if I was richer I'd still be with ya
Hah, now ain't that some shh? (Ain't that some shh?)
And although there's pain in my chest
I still wish you the best
With a forget you (oh, ooh, oooh)