NBC Insider Exclusive
Create a free profile to get unlimited access to exclusive show news, updates, and more!
Sign Up For Free to View
Blake Shelton and Shakira Sang a Badass Rock Version of "Whenever, Wherever"
A rock-and-roll take on the pop classic!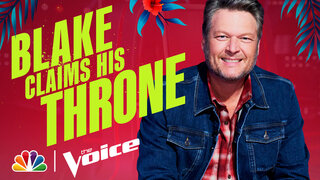 While Blake Shelton's sound is typically associated with country music, he showed off his versatility in 2014 with an unexpected cover of "Whenever, Wherever" by Shakira, who was his fellow Coach on The Voice at the time. 
During a performance where the Coaches sang a medley of each other's hits, Shelton's signature twang and Shakira's iconic tone took "Whenever, Wherever" to new, rock-and-roll heights. To shake things up even further, some electrifying guitars were brought into the mix to create something truly memorable. 
All About "Whenever, Wherever" by Shakira
Written by Shakira herself, "Whenever, Wherever" is one of her signature hits. It was originally recorded in Spanish, and the English version was released in 2001 off of her album Laundry Service. It peaked at Number 6 on the Billboard charts and was a massive success across the world, charting in 29 countries. 
"Whenever, Wherever" by Shakira lyrics
Lucky you were born that far away so
We could both make fun of distance
Lucky that I love a foreign land for
The lucky fact of your existence
Baby, I would climb the Andes solely
To count the freckles on your body
Never could imagine there were only
Ten million ways to love somebody
Le-do-lo-le-lo-le, le-do-lo-le-lo-le
Can't you see? I'm at your feet
Whenever, wherever
We're meant to be together
I'll be there, and you'll be near
And that's the deal, my dear
There over, hereunder
You'll never have to wonder
We can always play by ear
But that's the deal, my dear
Lucky that my lips not only mumble
They spill kisses like a fountain
Lucky that my breasts are small and humble
So you don't confuse 'em with mountains
Lucky I have strong legs like my mother
To run for cover when I need it
And these two eyes that for no other
The day you leave, will cry a river
Le-do-lo-le-lo-le, le-do-lo-le-lo-le
At your feet, I'm at your feet
Whenever, wherever
We're meant to be together
I'll be there, and you'll be near
And that's the deal, my dear
There over, hereunder
Or up above, don't wonder
We can always play by ear
But that's the deal, my dear
Le-do-lo-le-lo-le, le-do-lo-le-lo-le
Think out loud, say it again
Le-do-lo-le-lo-le-lo-le
Tell me one more time
That you'll live lost in my eyes
Whenever, wherever
We're meant to be together
I'll be there, and you'll be near
And that's the deal, my dear
There over, hereunder
You got me head over heels
There's nothing left to fear
If you really feel the way I feel
Whenever, wherever
We're meant to be together
I'll be there, and you'll be near
And that's the deal, my dear
There over, hereunder
You got me head over heels
There's nothing left to fear
If you really feel the way I feel