NBC Insider Exclusive
Create a free profile to get unlimited access to exclusive show news, updates, and more!
Sign Up For Free to View
Max's Ambitious ATM Idea on New Amsterdam Was Inspired By a True Story
Prescription ATMs aren't real—but there is a doctor who prescribes money.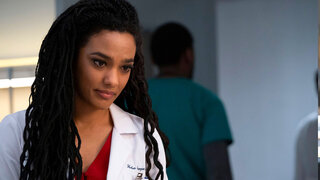 In another one of the optimistic Max Goodwin's (Ryan Eggold) ambitious ideas, he aimed to bring his patients an epic solution to their day-to-day ailments: an ATM just for prescriptions.
During New Amsterdam Season 5, Episode 2, titled "Hook, Line, and Sinker," Goodwin fought the board to allow the machine to have a permanent place in the hospital. Depending on the value prescribed by their doctor, patients could cash in and purchase everyday items that would reduce minor aches and pains that sent them to the emergency room. 
"It ended up being more cost effective for these hospitals to provide cash to people to take care of these basic needs that they couldn't otherwise take care of," Eggold told NBC Insider. "For instance, in the show there's a woman who needs a bus pass so she can walk to work without aggravating her asthma. So to have someone come in over and over again for asthma A) is much worse for this woman who's dealing with it primarily and B) the hospital is now dealing with this patient and maybe taking a bed away from someone else."
In the end, Goodwin's idea was rejected. But he naturally came up with a solution: a donation-based website. However, since New Amsterdam is no stranger to taking true stories to the small screen, you should know Goodwin's idea was inspired by a very real and evolving medical idea. We explain it all, below.
Are prescription ATMs real?
While actual prescription ATMs don't exist and are an invention of show production, the concept behind them really does exist.
Series writers were specifically inspired by a March 2022 Boston Globe article titled "Take this cash and call me in the morning" by journalist Julia Hotz. It posed the question: "Can financial prescriptions cure America's health problems?"
While the answer to that question is not at all straightforward in U.S. medicine, Hotz wrote, "Now, as COVID and its consequences have intensified the breadth and depth of poverty, eviction, unemployment, and food insecurity, many health care workers are actively prescribing financial resources. Often, however, financial prescriptions aren't for dollars out of the pockets of doctors like Schiff. Today they're increasingly coming from teams of health workers who collaborate with local government and nongovernmental groups to get patients relief through more formal forms of financial support, like benefits on their tax returns and link-ups with local food groups."
New Amsterdam writers also took note from Canadian Dr. Gary Bloch, who began prescribing his low-income patients money in 2005. For Bloch, this meant explaining how to apply for welfare, disability support, and special government benefits.
"Seeing patients, it became clear to me very quickly that until we worked on the basic social foundations of health, we wouldn't be able to do much about traditional medical issues," Bloch told Vox. "There's an incredibly strong body of evidence that proves the link between poverty and poor health outcomes."
As they say, the more you know!
"It's kind of fascinating that that really is a really helpful form of healthcare," Eggold says. "But just the commentary of what we need in this country and how we need to take care of each other, we should all have our basic needs met."
Watch New Amsterdam on NBC Tuesdays at 10/9c and next day on Peacock.