NBC Insider Exclusive
Create a free profile to get unlimited access to exclusive show news, updates, and more!
Sign Up For Free to View
Ana Gasteyer and X Mayo's AMA Will Get You Amped For American Auto Season 2
American Auto Season 2 premieres Tuesday, January 24, 2023 at 8:30/7:30c on NBC.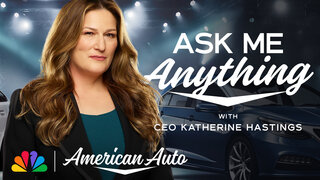 In honor of the American Auto Season 2 premiere, the delightfully funny Payne Motors CEO Katherine Hastings (Ana Gasteyer) and her assistant, Dori (X Mayo), hosted an Ask Me Anything that will have audiences cackling. 
In the AMA, Katherine fields hilarious questions during a live chat while Dori scrambles to keep things on track. So, what's the biggest takeaway from the short? Katherine still knows nothing about cars, driving, or the automotive industry!
While Katherine does her thing, Dori pops on and off screen, helping her answer questions. As the questions get more and more off-topic, the live chat spirals, chaos ensues, and the audience dwindles to a meager five viewers. 
Check out the full video, above!
According to Gasteyer, Katherine's intellect, paired with her utter disregard for the industry, is part of what makes the character work.
"Actually, she's got an MBA, she's come up through the ranks ... she just has no experience with, or history, or knowledge about cars — and she doesn't care," Gasteyer told People. "She truly is one of those management managers that's like, 'Well, I'm good at managing people. I don't have to know the product,' which is just inherently kind of funny. She literally doesn't know how to drive or care. She really cares about her stock options."
Starting January 24, American Auto airs Tuesdays at 8:30/7:30c on NBC. Stream episodes the next day on Peacock.