NBC Insider Exclusive
Create a free profile to get unlimited access to exclusive show news, updates, and more!
Sign Up For Free to View
American Song Contest Producers Answer Some Big Questions About the Show
The new music competition show premieres Monday, March 21 on NBC.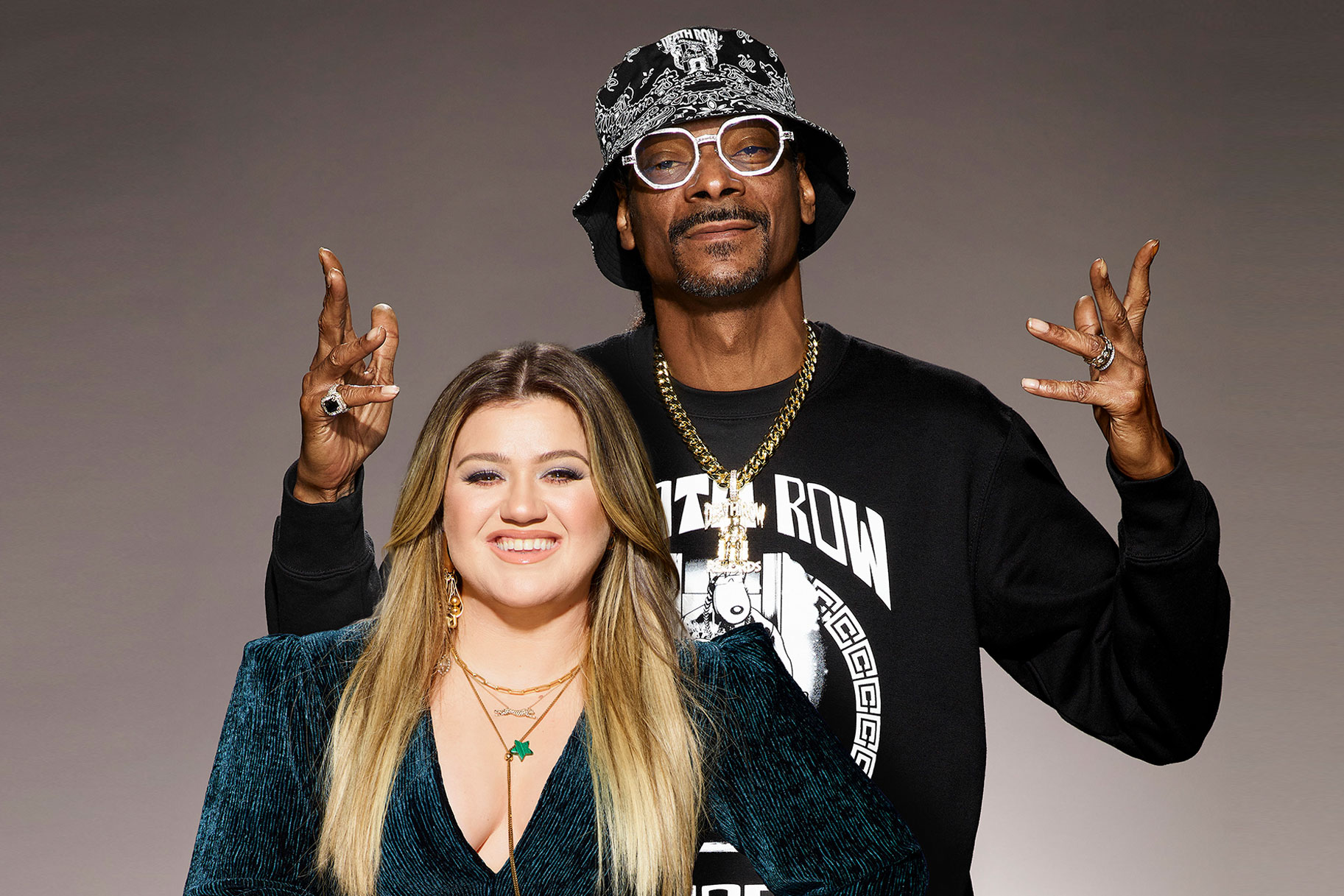 Big news, music lovers: The premiere of NBC's new music competition show, American Song Contest, is so close. Premiering Monday, March 21 at 8 p.m. ET, ASC is modeled after the mega-popular Eurovision and will see 56 Artists representing 50 U.S. states, five territories, and Washington, D.C. performing original songs—and viewers decide which one is the best. (The Artists are a mix of up-and-comers and established performers, like Jewel and Macy Gray.) Hosted by Snoop Dogg and Kelly Clarkson, the competition will air live over the course of several weeks until one Artist wins the prize of Best Original Song. 
"I have been a fan and love the concept of Eurovision and am thrilled to bring the musical phenomenon to America," Clarkson says. "I'm so excited to work with Snoop and can't wait to see every state and territory represented by Artists singing their own songs."
Ahead of the premiere, Clarkson, Audrey Morrissey (executive producer and showrunner of ASC), Ben Silverman (ASC executive producer), Anders Lenhoff (ASC executive producer), and Christer Björkman (ASC executive producer) answered some big questions about the show. Read on for more information, and get your singing pipes ready. 
How did American Song Contest come to be?
Silverman: I've always loved this incredible show.  And to collaborate and work with the people who actually produced the [Eurovision] finale in the Swedish qualifying show is an amazing privilege.  And then with Audrey and Kelly and Snoop joining our party, this is a dream come true.  I've pursued the rights for this for over 25 years, between being an agent, a network executive, and a serial producer, and show‑creator entrepreneur.  This has been the granddaddy of all music competition shows.  It's not only the first, it's the most ambitious and unique, and I'm so thrilled that we are all doing it together for NBC.  I think this is the ultimate in broadcast television. 
It's a show that the rights are actually controlled by the European Broadcasting Union, one of the largest conglomerates of different broadcasters from around the world and a not‑for‑profit.  And Eurovision has just gone from strength to strength year to year and remains arguably the most popular and important entertainment television show in the world, and I think it translates beautifully to America and our diverse culture that is only unified through its music and song, and I'm thrilled to be a part of it. 
How do viewers vote on American Song Contest? 
Stay tuned for a full breakdown on the voting process, but Silverman says, "We actually have an entire mechanism that protects population versus population." And Lenhoff adds, "Everybody competes on equal terms. So it means that every single state has its own equal voting power.  That goes with the territories, too.  So whoever wins the popular vote in California gets 12 points, but whoever wins the popular vote in Guam also gets 12 points.  So to win this competition, you need to find support in as many states and territories as possible. You need to find a broad base."
How were the American Song Contest Artists picked? 
Morrissey: We basically put out all our feelers through a very exhaustive submission process. A lot of us had worked on The Voice and Songland for 11 years, so we had a really vast network of A&R scouts, managers, booking agents.  You name it, we knew them. 
But what we really did was take lot of time to personally explain how this show is different.  This show is not for the 15‑year‑old whose family doesn't know they sing, and they are going to come out on The Voice or American Idol or AGT and blow people away.  This is a professional platform.  This is for the Artists, the person who is committed to, "This is what I'm doing in my life, and I've been grinding it and working it on the road for years.  I'm kind of a known entity.  A&R scouts know about me.  Maybe I am about to be signed, or I already have been signed, or I've turned down deals because I want to go it alone."  So a lot of it was really educating the American music industry on how this show is different.  So we really had the right people on this. 
And to that point, in Europe, for Eurovision, all the countries have their own national selection shows where the public votes, but here we had no mechanism for that.  And, hopefully, down the road, we will; but in the meantime, we had to kick‑start this.  So we used our network, we explained everything, and then we had an independent academy filled with all of these different types of professionals in the music business to weigh in and help evaluate along with us who would be the best candidate in each particular case, whether it be a territory or a state.  And that's how we arrived at them.
Will American Song Contest have the over-the-top costumes that Eurovision does?
"Yes, we will," Morrissey says. "We've been working for months to really deliver on the level of production value that Eurovision has and bring that here." And Silverman adds, "It's unbelievable, our sets, the spectacle, the costume design, the lighting design, all of the production value. And I think one of the great parts of having Christer and Anders and their teams here is we are really informed by that Eurovision finale. And all of its ambition, all of its theatrics, all of its spectacle are going to be on our show live."  
Will the already-established Artists have an unfair advantage over the newer ones? 
Morrissey: "What is playing out over this show is the actual music business.  All of these up‑and‑coming stars are competing with the Jewels and the Michael Boltons and the Macy Grays and The Weekends and the Kelly Clarksons and the Blake Sheltons and everybody. It's just, it is what it is. You can't undo people's experience and their profile when you are trying to come up.  So what we are doing is giving everybody an even playing field on a platform and to make of it what they can, and everybody is being given the same support.  And, yes, Michael Bolton and Jewel have more of a profile, I'm sure, with some groups of the American public but not all.  And I would also add: Americans love to discover new people, new musicians, new songs, new everything. They also love an underdog.
Clarkson: They love an underdog. I almost feel like legacy Artists are going to have to work harder.
Reminder: American Song Contest premieres Monday, March 21 at 8 p.m. ET on NBC.