NBC Insider Exclusive
Create a free profile to get unlimited access to exclusive show news, updates, and more!
Sign Up For Free to View
Fans Are Going Wild for AGT Singer Daniel Emmet's New Career Milestone
His debut album has been a huge success!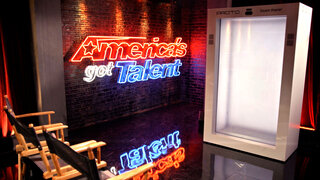 America's Got Talent Season 13 Contestant Daniel Emmet just reached a very exciting milestone in his career. The opera singer recently released a self-titled debut album, which reached the number-one spot on the U.S Singer/Songwriter chart on iTunes. 
Emmet rose to fame during his Audition on Season 13 of AGT, where he sang a gorgeous rendition of Il Divo's "Passerà" (a song that is on his album). He got four "yeses" from the Judges and made it to the Quarter-Finals. Emmet also returned in Season 17 to do a performance with deepfake technology act Metaphysic.
"It's tiiiiime!! My debut album is finally here! It is now available on all streaming and digital platforms, I hope you all enjoy this work that is the truest expression of my heart and soul. I am so proud to share it with each and every one of you! This moment is so special, and it wouldn't have been possible without YOU!" #newalbumalert #alert #news #new #itstime #musicrelease #release #debut #record #danielemmet #agt @agt #classicalcrossover #crossoversinger #sing #music #originalmusic #newsong #newalbum mastered by @maorappelbaummastering @symphonicdistro @emithastudios @crossover.records @spotify @pandora @applemusic @itunes @amazonmusic @killerimaging" Emmet gushed on his Instagram page on December 16. (See the post here).
And fans are so excited. "Such a great collection of songs!! Awesome!!" one fan wrote in the comments, while another said, "AHH YOUR FIRST ALBUM DANIEL!!! I am so excited for you, you have worked so hard for this moment and I'm so happy to see it finally happening!!" 
The 11-track album features covers such as "Unchained Melody" by the Righteous Brothers and "You're the Inspiration" by Chicago. It also has an original single tune titled "True Reflection, which features the City of Prague Philharmonic Orchestra. Listen to the album wherever you stream music.