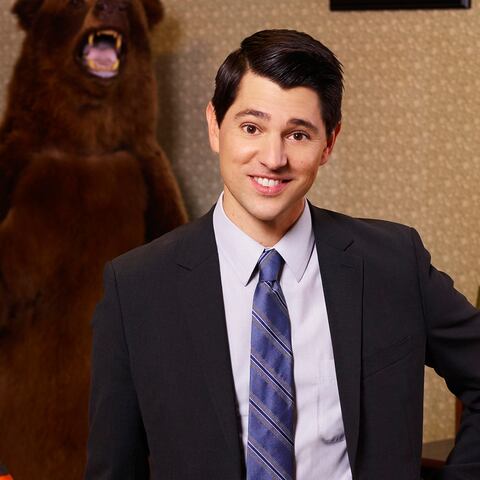 Josh Segal
Played by
Nicholas D'Agosto
Actor Bio
Nicholas D'Agosto portrays Josh Segal on NBC's new comedy "Trial & Error."
A native of Omaha, Nebraska, D'Agosto found acting through competitive speech tournaments and improvisation classes in grade school. While a senior at Creighton Preparatory School, he landed his first professional role in Alexander Payne's "Election." He spent his next four years at college, graduating cum laude from Marquette University in Milwaukee, Wisconsin, with degrees in history and theater.
After college D'Agosto landed a leading role in writer/director Jeffrey Blitz's film "Rocket Science," which premiered at the 2007 Sundance Film Festival and won the Dramatic Prize for directing.
D'Agosto has since starred in Will Gluck's "Fired Up!;" "From Prada to Nada" for director Angel Gracia opposite Camilla Belle and Alexa Vega; in the drama "Dirty Girl" for director Abe Sylvia opposite William H. Macy and Milla Jovovich; and "Final Destination 5," the most recent installment of Warner Bros.' popular horror franchise.
D'Agosto has also had success on the small screen. He had recurring roles on Fox's "Gotham" as well as ABC's "Grey's Anatomy," while on the cable side co-starring in the Showtime drama "Masters of Sex." Additionally, he appeared in the second season of the hit NBC series "Heroes" and has appeared on numerous television series, including "The Office," "Six Feet Under," "Cold Case," "Without a Trace" and "House."
D'Agosto often returns to the theater. Among many plays performed during his time in Milwaukee, D'Agosto had the great honor of helping originate, as well as dramaturge and perform, the play "Chomsky 9/11," which was based on Noam Chomsky's post-9/11 writings, with the late avant-garde troupe Theatre X. He has also become an active member in the A2 Ensemble of L.A.'s classical theater troupe the Antaeus Company and co-starred in their 2012 production of "You Can't Take It With You" and 2013 production "The Liar."