SEASON PREMIERE SEPT 19 | MONDAY 8/7c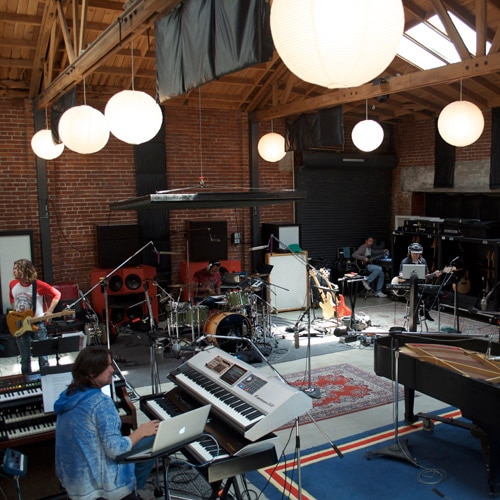 BAND
Played By The Voice Band
Actor Bio
Paul Mirkovich (Band Director)
A Los Angeles native, Paul Mirkovich is the musical director for "The Voice" house band. As musical director, Paul is in charge of putting the perfect band together, and he knew exactly where to turn. Having previously worked with Sasha Krivtsov, Nate Morton and Rafael Moreira for many years, he reached out to these same musicians when it came time to form a new band. Aside from "The Voice," Paul also does musical directing for artists such as Pink and Cher, where he gets to help put their live shows together. He draws influence from musicians from all walks of life including Chopin, Gershwin, Led Zeppelin and Joni Mitchell. Paul has over 30 years of experience working in music, from touring to TV shows to session work. He thoroughly enjoys working with "The Voice" house band and loves that he knows exactly what he will do each day - creating the best arrangements that will suit singers in the most positive way.
Dory Lobel (Guitar)
Dory Lobel was born in Boston and grew up in Israel. He has worked with some of the biggest names in the music industry, touring and performing all over the world with diverse artists including The Backstreet Boys, Colbie Caillat, Jesse McCartney and Enrique Iglesias. In addition to playing guitar, he is an established composer, songwriter and producer. His music has been featured in countless television shows and commercials, and his songs have reached Top 20 charts around the world.
No stranger to television work, Dory recently served as musical director and judge in the award winning Israeli music show "Living in La La Land," alongside music industry legend Ron Fair. He has also performed as part of Jay Leno's Tonight Show Band, filling in for guitar great Paul Jackson, Jr.
Dory is a fan and student of all styles of music from blues, rock, soul and country to electronica, heavy metal, world music and funk.
After years of touring, Dory says being on The Voice is a dream job. He gets to do what he loves with some of the best musicians on the planet, while staying home in LA with his family.
Sasha Krivtsov (Bass)
Alexander "Sasha" Krivstov hails from St. Petersburg, Russia. At the young age of five, Sasha began playing classical guitar and played professionally at the age of 15 as part of the highest record selling Russian band, Zemlyane. A self-taught artist, he spends his limited free time drawing and painting, and mentions Picasso as his inspiration.
Much like the other members of "The Voice" house band, Sasha has been a part of a house band for quite some time now. He has played with Paul Mirkovich, Rafael Moreira and Nate Morton for the past 10 years, most recently on "Rockstar: INXS" and "Rockstar: Supernova." When Paul got the call to be a part of "The Voice," it was only natural that Sasha would come along for the ride. Sasha draws musical inspiration from a variety of places, including his grandmother's lullabies, Motown and AC/DC. He has toured with Billy Idol, Tina Turner and Cher. The most memorable crowd he has performed for was 250,000 fans at the 2000 New Year's Eve show with Billy Idol.
Nate Morton (Drums)
Raised up and down the East Coast from Baltimore to Boston, Nate Morton is originally from Nashville, Tennessee. As a four year old, Nate would often watch Animal on "The Muppet Show" and realized very quickly that he wanted to be just like this wonderful puppet drummer. Nate credits his opportunity to be a part of "The Voice" house band to his relationship with Paul Mirkovich. He likens the experience to being in a pure Zen state - where he gets to make good music and work with wonderful people. Nate knows he has worked with amazing artists before and hopes he will continue to do so for a long time, but he focuses his energy 100% on the now and on his current gig with the show. Nate describes his musical style as an eclectic blend of rock, rap, hip-hop, reggae and soul, and he draws inspiration from his fiancee, Nicolle, and his baby daughter, Isabelle.
Eric Daniels (Keyboards)
Born and raised in Northern California, Eric Daniels began his music career at a very young age. At only seven years old, Eric started playing a toy piano and has never looked back. As a child, he began to take private lessons to sharpen his skills, and he also played at a local church as a teenager. Eric joined "The Voice" house band as a keyboardist shortly after reconnecting with Paul Mirkovich for a Christina Aguilera tour in 2010 - almost 20 years after they had last played together. One of the best things about being a part of this band for Eric has been the opportunity to work with talented artists and striving to get the best out of them week after week. Citing Prince and Stevie Wonder as major influences on his own style, Eric considers himself a chameleon who can morph into any musical style he experiences. Before becoming a part of "The Voice" house band, Eric played with the likes of Janet Jackson, Boyz II Men, TLC and Mariah Carey, whom he toured with for over 14 years.