We received hundreds of thousands of votes on which book to read this summer and are excited to announce that our winner is...

Ask Again, Yes by Mary Beth Keane!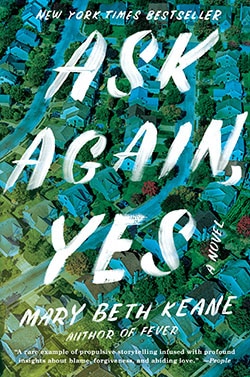 ---
---
Ask Again, Yes won with 50% of the votes, and we can't wait to start reading it!

The book tells the story of Francis Gleeson and Brian Stanhope, two rookie cops working together in 1973 New York City. When their families end up living next door to each other in a suburb just outside the city, it sparks a lifelong friendship between their children, Kate and Peter. What happens behind closed doors in both houses sets the stage for the explosive events to come. One shocking night their loyalties are divided, and their bond will be tested again and again over the next 40 years.

To read along, get your copy of the book through the links below, at your neighborhood bookstore or through your local library!

Be sure to follow Jimmy Fallon on Instagram and The Tonight Show on Facebook and Instagram to join the conversation using #TonightShowSummerReads. We will be checking in to give feedback on the book, answer questions and hear what you have to say about it!

Check back here often for more exciting Tonight Show Summer Reads announcements!
---
---