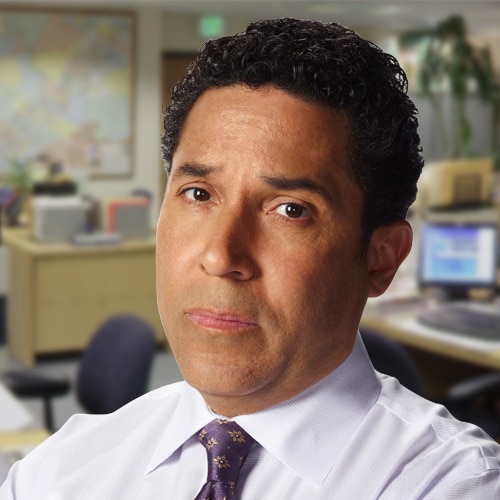 OSCAR MARTINEZ
Played By Oscar Nuñez
Actor Bio
Oscar Nunez is best known for playing accountant Oscar Martinez on NBC's "The Office." He has won an Emmy, two SAG Awards, an ALMA Award and a TV Land Award for the role, and last year, the National Hispanic Media Coalition honored him with an Impact Award. Nunez is also recognized for his large supporting role in the hit movie "The Proposal" and for creating and starring in his own Comedy Central series, "Halfway Home."
Raised in New Jersey, Nunez's acting career started on the East Coast. He studied acting in New York and Washington D.C. and performed with the Shock of the Funny improv troupe. After stints studying fashion, art and dentistry, Nunez finally moved to Los Angeles where he performed with the Groundlings as a member of their Sunday Company.
Nunez has appeared in the features "Beethoven's Big Break," "The Italian Job," "Without Men" and "When Do We Eat?" and on numerous TV shows including "24," "Curb Your Enthusiasm," "Reno 911," "Mad TV" and "Malcolm in the Middle." Nunez can also be seen in the Nickelodeon feature "Fred: The Movie" and the upcoming independent film "Language of a Broken Heart."