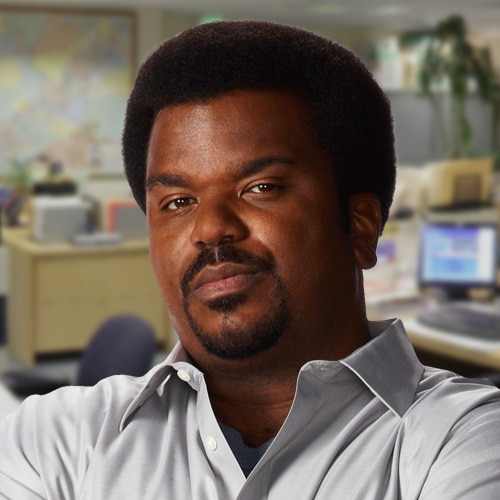 DARRYL PHILBIN
Played By Craig Robinson
Actor Bio
Craig Robinson stars as Dunder-Mifflin warehouse manager, Darryl, in NBC's hit comedy "The Office."
Robinson previously starred on the series "Lucky" with John Corbett. He has guest starred on numerous TV shows, including NBC's "Friends," "Bernie Mac" and "Curb Your Enthusiasm."
Robinson can also be seen in Tyler Perry's film "Daddy's Little Girl," the recently released film "Knocked Up," and in "D-War." In addition, Robinson recently wrapped shooting the lead role in Judd Apatow's, "Pineapple Express."
Robinson has also performed on late night, including "The Jimmy Kimmel Show," "Sketchpad" and "Real Time with Bill Maher."
Robinson first shined at the 1998 Montreal "Just For Laughs" Festival, which led to a development deal at Fox Broadcasting Company. Robinson also won the 1998 Oakland Comedy Festival as well as the Miller Genuine Draft 1996 Comedy Search.
He attributes his wit, charm and comedic gifts first to family, and then to the days when imitating Richard Nixon brought laughter to everyone. His first real taste of performing was in college, where the extraordinary material, delivery and commanding stage presence, was developed. Robinson had a gift, and the Chicago comedy clubs took notice, as audiences raved about this fresh, about-face comedy.
Robinson hopes to follow in the footsteps of previous Montreal, Oakland and Miller Genuine Draft performers including Jay Leno, Jamie Foxx, Ray Romano and D.L. Hughley.