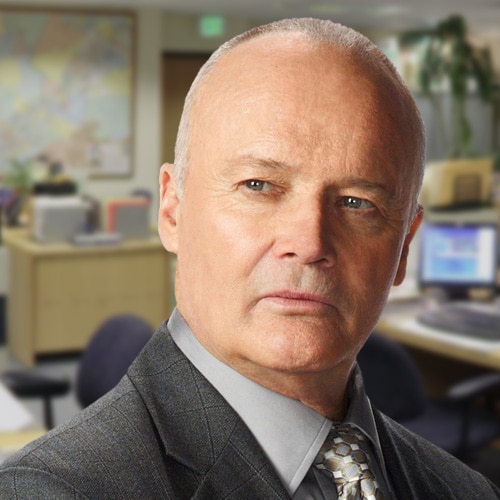 CREED BRATTON
Played By Creed Bratton
Actor Bio
Creed Bratton portrays Dunder Mifflin's offbeat quality assurance representative, Creed Bratton, on NBC's hit comedy "The Office." He will next be seen opposite John C. Reilly in "Terri," debuting at the 2011 Sundance Film Festival. Bratton's talent for music and acting began at a young age. He began playing the guitar professionally as a teenager, followed by a whirlwind travel experience throughout Europe in his twenties with the band the Young Californians.
Bratton just released his fifth solo album called "Bounce Back." More information about Bratton's CD can be found at www.creedbrattonbounceback.com. As a member of the musical group The Grass Roots in the 1960s, Bratton appeared on numerous television shows, as well as in the Doris Day movie "With Six You Get Egg Roll." Bratton parted ways with the band in 1970, but he continued his passion and released the solo albums "Chasin' the Ball" and "The '80s" in 2001, "Coarsegold" in 2002 and "Creed Bratton" in 2008.
Bratton recently appeared in the short film "Just One of the Gynos," which was accepted at three film festivals. Bratton has also worked in front of and behind the scenes as a prop man, boom man and grip. His film credits as an actor include "Melvin Smarty," "I Am Ben" and "The Ghastly Love of Johnny X," all due to be released in 2011. Previous work includes "Labor Pains," "The Wild Pair," "Mask" and "Heart Like a Wheel." On television, he has appeared on "Funny or Die Presents..." and hit shows such as "The Bernie Mac Show" and "Eight Is Enough."
Born in Los Angeles, he grew up in the small town of Coarsegold near Yosemite, California. He attended the College of the Sequoias and Sacramento State College as a drama major. Bratton currently resides in Los Angeles.