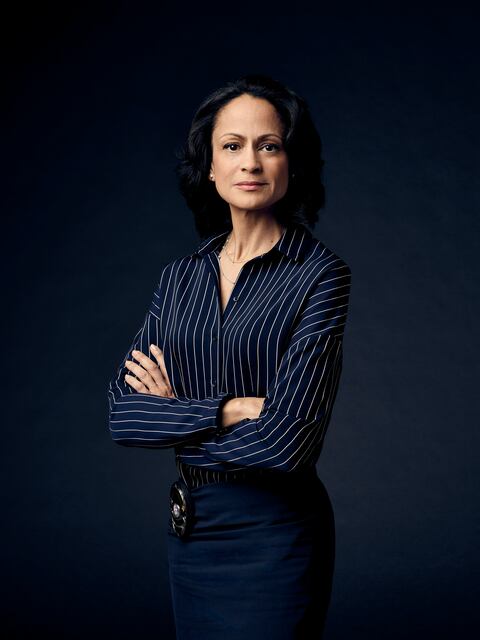 Lt. Swanstrom
Played by
Anne-Marie Johnson
Actor Bio
Anne-Marie Johnson plays Lt. Swanstrom on NBC's new paranormal drama "The InBetween."
A Los Angeles native and UCLA graduate, Johnson enjoys a very busy career that includes work on television and film. Johnson starred on several successful series, including "In the Heat of the Night," "What's Happening Now," "In Living Color" and "Melrose Place," among others. For five seasons, she portrayed Congresswoman Bobbie Latham on the hit military drama "JAG," followed by a role as Sharon Upton Farley on the hit comedy "Girlfriends."
Johnson also starred as Donna Cabonna on the hit series "That's So Raven" and had a recurring role on Tyler Perry's hit comedy "House of Payne."
More recently, Johnson guest-starred on multiple hit shows, including "Leverage," "Fairly Legal," "NCIS," "Bones," "Murder in the First," "Chasing Life," "Pretty Little Liars," "Childrens Hospital," "Castle," "Grey's Anatomy" and "Reverie," and had recurring roles on "Days of our Lives," "NCIS: Los Angeles," "Wet Hot American Summer: Ten Years Later" and "Imposters." She also enjoyed a recurring role on the drama series "For the People" as Senator Melora Knox.
Johnson's feature credits include "Hollywood Shuffle," "Strictly Business," "I'm Gonna Git You Sucka," "Robot Jox," "True Identity," "Down in the Delta," "Pursuit of Happiness," "L.A. Riots," "Spectacular," "About Fifty" and "Sister Code."
Johnson represented the Screen Actors Guild as a national board member and four-term vice president from 1997-2013. She was recently honored with the prestigious 2016 Ralph Morgan Award, which is SAG-AFTRA Los Angeles' highest honor.
Extremely active in her community and with law enforcement efforts, Johnson has worked with the LAPD since 2015 to create, co-produce and direct a series of public service announcements. She has served as Mistress of Ceremonies for the LAWPOA Symposium for several years. She also was recently honored with the Southern Christian Leadership Conference Rosa Parks Award and was named the 2017 Silver Lake Woman of the Year by Congressman Adam Schiff.
Johnson was recently reelected to an at-large board seat and named co-chair of the governing board for her Neighborhood Council.