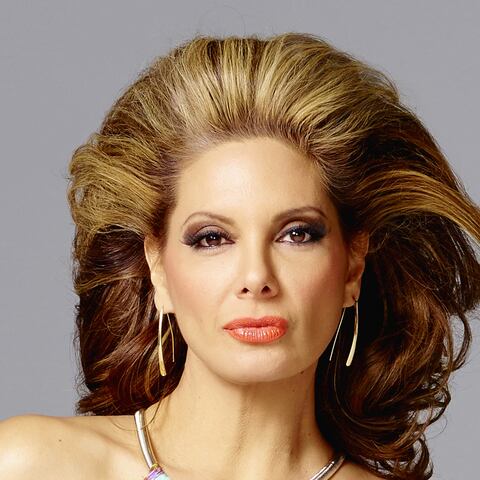 Isabela Santamaria
Played by
Alex Meneses
Actor Bio
Alexandra Meneses co-stars as over-the-top diva actress Isabela Santamaria on NBC's new comedy "Telenovela."
Meneses is an ALMA Award-nominated actress known for her smoldering bombshell characters and philanthropic commitment to a wide variety of causes. She was first embraced by audiences for playing Teresa Morales on "Dr. Quinn, Medicine Woman." Her role as Stefania Fogagnolo - Brad Garrett's luscious Italian girlfriend on "Everybody Loves Raymond" - earned her ALMA Award and American Comedy Award nominations. Other TV roles include Joey Tribbiani's sister Cookie on "Friends" and Sophia on "The Goldbergs." She was also on "CSI," "CSI: Miami," "Prison Break," "NCIS," "Psych," "Austin & Ally" and "The Cleveland Show."
On film, the Chicago native and former model appeared in "Selena," "Boyle Heights" and the New York Film Critics Circle Award-winning "Auto Focus."
As president and founder of her own production company (OOLaLa Productions/LADDS Entertainment), Meneses produced the Sundance Channel hit documentary "Damned to Heaven," a gripping look at life inside the FLDS (Fundamentalist Church of Jesus Christ of Latter-Day Saints) pluralistic community of Colorado City, Arizona. She also executive produced "Australians Hit Hollywood," an honest look at Australians and New Zealanders who have turned themselves into prominent players in Hollywood.
Meneses received acclaim in the Geffen Playhouse's production of "Oscar and Felix: A New Look at the Odd Couple" by Neil Simon.
In her ongoing commitment to philanthropy and volunteerism, Meneses served on the Board of Trustees at Children's Hospital Los Angeles for 10 years. She also serves on the boards for United Hope for Animals, Los Angeles Philharmonic and Chicago Symphony Orchestra and is a member of the Chicago History Museum. An alum of Chicago's Mother McAuley Liberal Arts High School, Meneses frequently returns to campus and meets with students. In 2005, she established the Alexandra Meneses Endowed Scholarship to ensure young women are given the best possible careers and life opportunities.
A devoted mother to her young daughter, Meneses divides her time between Los Angeles and Chicago.