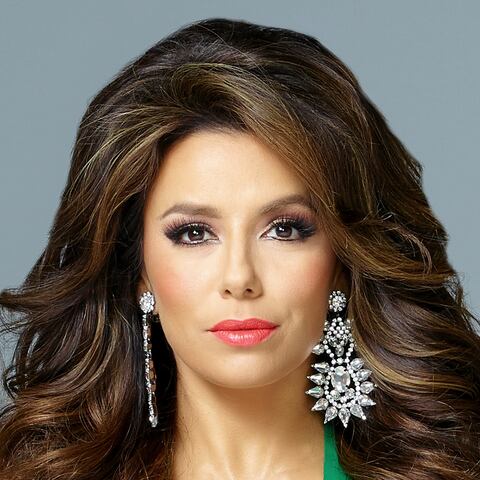 Ana Sofia Calderon
Played by
Eva Longoria
Actor Bio
Eva Longoria plays Ana Sofia Calderon and is an executive producer on the new NBC comedy "Telenovela."
Longoria is a Golden Globe-nominated, Screen Actors Guild- and ALMA Award-winning actress, producer, director, entrepreneur, philanthropist and "Desperate Housewives" alum. Her greatest work is as a champion of women, the Latino community and youth with special needs.
Longoria is set to star opposite Oscar-nominee Demián Bichir in the feature film "Low Riders," which looks at the lives of enthusiasts of the reemerging low-riding culture in Southern California's Latino communities. Longoria also recently starred in the feature films "Refugio," "Any Day," alongside Sean Bean and Kate Walsh, and the critically acclaimed feature film "Frontera," co-starring Michael Peña and Ed Harris. Longoria also recently guest starred on the Golden Globe Award-winning comedy series "Brooklyn Nine-Nine."
She established the Eva Longoria Foundation to help Latinas build better futures for themselves and their families through education and entrepreneurship. Foundation programs help Latinas achieve their full potential through parent engagement, mentorship, extracurricular participation, STEM (science, technology, engineering and mathematics) education, micro-loans and other high-potential interventions.
In addition to her foundation, Longoria co-founded Eva's Heroes in 2006. Eva's Heroes enriches the lives of those with intellectual special needs by providing an inclusive setting built on the four tenets of interact, grow, learn and love. Based in San Antonio, the organization helps teens and young adults with intellectual special needs to integrate into and flourish in society.
Longoria is also the spokesperson for Padres Contra el Cáncer, a nonprofit organization that is committed to improving the quality of life for Latino children with cancer and their families. Padres is the only Latino program in the United States that is focused on addressing the needs of the entire family. Since becoming a spokesperson 10 years ago, Longoria has helped raise more than $7 million through her participation as the Chair of El Sueño de Esperanza Gala, personal contributions and other special campaigns.
Longoria was named Philanthropist of the Year by The Hollywood Reporter and honored by Variety with a Lifetime Achievement Award for their Power of Women issue. Longoria has received countless other awards for her philanthropy and activism, including the prestigious Dorothy I. Height Racial Justice Award by the YWCA USA, the Norma Zarky Humanitarian Award from Women in Film during their annual Crystal + Lucy Awards and the National Hispanic Foundation for the Arts Horizon Award, presented each year to the individual whose work most advances the presence of Latinos in television and/or film.
A pillar in the Latino community, Longoria has executive produced and hosted the National Council of La Raza ALMA Awards for the past eight years. Longoria also executive produced, in collaboration with Academy Award-nominated Shine Global, the documentary "The Harvest," which focuses on the plight of the estimated 500,000 child farm workers whose tireless efforts help feed America.
Longoria executive produced her second documentary, "Food Chains," a film that also exposes the current and historic exploitation of farm workers, including stunning revelations that thousands of laborers in our nation's fields are held as modern-day slaves. The film had its U.S. premiere at the 2014 Tribeca Film Festival and was picked up for distribution by Screen Media. Longoria is currently producing her third documentary, "Our Time," which explores the power of the Latino vote.
NBCUniversal signed Longoria's production company, UnbeliEVAble Entertainment, to a first-look television deal that would later be renewed to include Universal films. Last year, she sold nine projects and was fiercely sought after by both ABC and NBC to make a return to primetime television. Additionally, Longoria is executive producer of Lifetime's hit one-hour dramedy "Devious Maids." The show follows the trials and tribulations of five Latina women who work as maids in Beverly Hills, and was just renewed for a fourth season. It was also recently announced that she will be producing two more projects for NBC: the comedy "Bonita & Mechelle," co-produced with Will Packer, and an untitled Texas Ranger comedy.
Longoria received her master's degree in Chicano studies from California State University, Northridge.