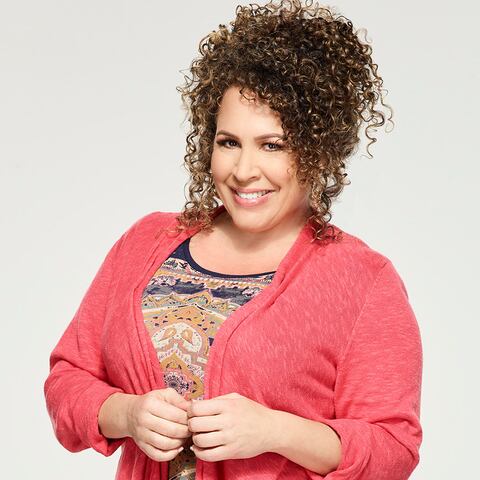 Griselda
Played by
Diana-Maria Riva
Actor Bio
Diana Maria Riva plays Griselda on NBC's new comedy "Sunnyside."
In an impressive career spanning over two decades, Diana Maria Riva has established herself as a dominant force in television, film and theater. Most recently, she appeared alongside Christina Applegate and Linda Cardellini in Netflix's hit series "Dead to Me."
This fall, Riva will recur on Apple TV+'s upcoming series "The Morning Show," starring Jennifer Aniston, Steve Carell and Reese Witherspoon. Riva will also be seen with Anna Kendrick and Shirley MacLaine in Disney's holiday film "Noelle," which will be one of the first projects released on Disney+.
On the big screen, Riva most recently starred in Disney's "McFarland, USA," with Kevin Costner and Maria Bello, and "Love & Mercy," with Elizabeth Banks and John Cusack. Riva also had a supporting role in the critically acclaimed "Short Term 12," starring Brie Larson. In 2010, she starred opposite America Ferrera in Fox Searchlight's "Our Family Wedding." Other notable film credits include "17 Again," "What Women Want," "Employee of the Month," "Chasing Papi" and "The Third Wheel."
Previous TV credits include "Telenovela," "Man with a Plan," "The Bridge," "The Good Guys," "Madam Secretary," "Everybody Loves Raymond," "The West Wing," "Studio 60 on the Sunset Strip," "Less Than Perfect," "The Hughleys," "Family Law," "The Drew Carey Show," "Strong Medicine," "The X-Files," "The Pretender," "Party of Five," "The Ghost Whisperer," "Sabrina the Teenage Witch" and "In Plain Sight."
Riva was first discovered by ABC Studios, which quickly signed her to a holding deal and placed her as a series regular on the half-hour comedy "Common Law." Though the show was short-lived, Riva parlayed her experience into an impressive small-screen résumé. She starred as Kim Delaney's colorful and confident office manager on the ABC/Steven Bochco series "Philly." Previously, Riva was part of the Bochco family, having appeared in recurring roles on "City of Angels" and "NYPD Blue," as well as doing guest-star work on "Murder One."
Riva was born and raised in Cincinnati with her native roots going back to the Dominican
Republic. She attended the University of Cincinnati College-Conservatory of Music, where she received her master of fine arts in theater performance. While not at work, Riva dedicates her time to her family. She and her children reside in Los Angeles.