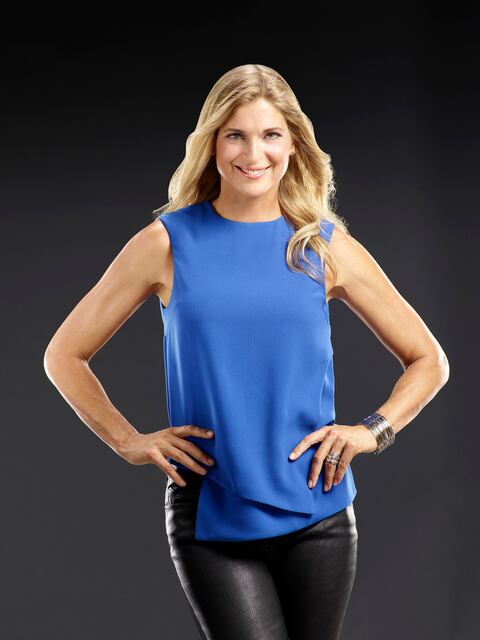 Gabrielle Reece
Host Bio
Gabrielle Reece is the host of NBC's new fitness competition series "STRONG."
Reece is a world-renowned athlete and New York Times best-selling author. A former professional beach volleyball player and Nike's first female spokeswoman, Reece is the definition of both athleticism and feminine beauty. Her commanding presence, passion for healthy living and fitness expertise make her a popular leader and role model in health and wellness. Reece has hosted "Insider Training" on Fit TV/Discovery, where she provided an inside look at professional athletes' exercise regimens and what they eat. She has also been a featured host of ESPN and NBC's "Gravity Games" and a featured trainer on "The Biggest Loser."
Early in her television hosting career, Reece won a huge following by taking risks road-lugging, whitewater kayaking, drag racing, surfing and sky diving on "MTV Sports" and "The Extremists with Gabrielle Reece." She was also a commentator at the 1998 Goodwill Games.
Beyond Reece's own websites, her health and fitness tips have appeared in Shape, Men's Fitness and Elle magazines. She was a monthly contributing editor for Yahoo Health, and has written for the Huffington Post and the Los Angeles Times Magazine. She was also the face of "Lighten Up Your Summer," a web series with Glo.com.
As Nike's first female athlete spokesperson and shoe designer, Reece designed the Air Trainer in 1994, Air Patrol in 1995, Air GR in 1997 and Air GR II in 1998 - all of which became the first women's shoe to outsell the Air Jordan. Reece is also the creator of HIGHX Training and joined forces with Lifeline to launch her highly successful HIGHX program. She was the creator and host of the HoneyLine, a fast-paced magazine-style broadcast that delivered realistic solutions to women's questions concerning style, health and fitness, relationship challenges in the home, food and the environment.
A Florida State star turned pro, Reece trained hard to hone her skills in two-person beach volleyball and competed domestically in the 1999-2000 Olympic 4 on 4 Challenge Series, and the 1999-2000 FIVB Beach Volleyball World Tour. In 1997, competing with the best global beach volleyball players ever assembled, her four-person team took first place at the first-ever Beach Volleyball World Championships. That year was Reece's fifth season as a team captain in the four-person Women's Beach Volleyball League and her fourth captaining Team Nike. Named the Offensive Player of the Year in 1994-95 and WBVL blocks leader, Reece led the WBVL in kills four straight years in a row from 1993-96. In 1997, Women's Sports & Fitness named Reece one of the 20 Most Influential Women in Sports.
Reece is a proud wife and mother of two children.