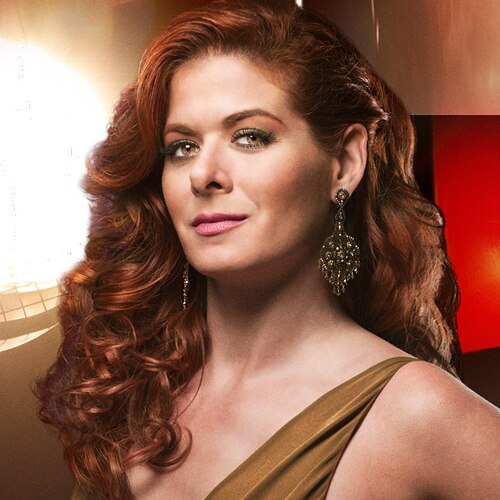 JULIA HOUSTON, (LYRICS/BOOK)
Played By Debra Messing
Actor Bio
Debra Messing stars in NBC's new musical drama "Smash" as writer Julia Houston, one half of the hit-making Houston-Levitt (Christian Borle) team. Julia struggles to balance the relentless demands of Broadway with the needs of her family, and the return of her old flame, musical theater star Michael Swift (Will Chase), hasn't made life any easier.
Messing is best known for her role on NBC's Emmy Award-winning comedy series "Will & Grace," where she captivated television audiences worldwide for eight seasons with her comedic brilliance as Grace Adler, an interior designer whose best friend and soul mate is gay. For her work on the popular sitcom, Messing won the 2003 Emmy, and has earned a total of seven Golden Globe nominations, seven Screen Actors Guild nominations (winning the ensemble award in 2001), five additional Emmy nominations, two American Comedy Award nominations and one individual People's Choice Award nomination. She also collected TV Guide's Actress of the Year in a Comedy Series honor in 2001.
After "Will & Grace," Messing starred in USA Network's Emmy-nominated six-hour television event "The Starter Wife," with Joe Mantegna, Miranda Otto and Judy Davis. Because of this highly successful run, Messing reprised her role as Molly Kagan in "The Starter Wife" regular series. Messing also received Golden Globe nominations for her performance in both the miniseries and the television series. Messing portrayed Mary Magdalene in the four-hour miniseries "Jesus," directed by Roger Young and co-starring Gary Oldman, Armin Mueller-Stahl, Jeroen Krabbe and Jeremy Sisto.
In addition, Messing starred as a young bio-anthropologist in the 1998 thriller series "Prey" and displayed her comedic skills for two seasons as Stacey in the Fox comedy "Ned and Stacey," which also starred Thomas Haden Church. Her additional credits include recurring roles on the hit television series "NYPD Blue" and "Seinfeld," as she appeared in the latter as Jerry's ideal but elusive love, Beth Lookner.
Among her feature films, Messing could be seen recently in "Nothing Like the Holidays" with John Leguizamo, Freddy Rodriguez, Alfred Molina and Elizabeth Peña, and in "The Women," alongside Hollywood powerhouses Annette Bening, Meg Ryan, Jada Pinkett Smith, Eva Mendes, Cloris Leachman and Candice Bergen. She also starred in Ed Burns' film "Purple Violets," the first feature film released exclusively on iTunes. Messing's film work also includes two romantic comedies "The Wedding Date," opposite Dermot Mulroney, and the box-office hit "Along Came Polly," with Ben Stiller and Jennifer Aniston. In 2002, Messing co-starred in Woody Allen's comedy "Hollywood Ending," opposite Allen and Tea Leoni, and in "The Mothman Prophecies," opposite Richard Gere and Laura Linney.
Earlier, Messing garnered much excitement in New York over her portrayal of Harper Pitt in the pre-Broadway workshop of Tony Kushner's Tony Award-winning play "Angels in America: Perestroika." She then left New York for Seattle to star as Cecily in "The Importance of Being Earnest" at the Intiman Theatre. Upon her return, she was cast as both Mary-Louise Parker's and Polly Draper's understudy in the New York premiere of John Patrick Shanley's critically acclaimed off-Broadway play, "Four Dogs and a Bone," at the Manhattan Theatre Club.
Messing next went on to co-star in Paul Rudnick's off-Broadway play "The Naked Truth." She also co-starred onstage with Maria Tucci in the two-woman, highly acclaimed off-Broadway production of Donald Margulies' "Collected Stories," which premiered at The Manhattan Theatre Club and was chosen as a finalist for the Pulitzer Prize.
Raised in a quiet community outside Providence, Rhode Island, Messing devoted much of her childhood to musical theater, and performed in numerous productions at both school and camp, which ignited her interest in the stage. She received her liberal arts education at Brandeis University, where she majored in theater arts. Messing spent half of her junior year studying in London's prestigious B.E.S.G.L. program, which featured dramatic arts teachers recruited from distinguished institutions such as the Royal Academy of Dramatic Art, The London Academy of Music and Dramatic Art, Cambridge University and Oxford University. Upon graduating summa cum laude from Brandeis, she was accepted into NYU's elite Graduate Acting Program and received her Master of Fine Arts degree three years later.
During her free time, Messing supports charities such as PSI, The Gay Men's Health Crisis, AmFAR, HRC (Human Rights Campaign), and GLAAD, for which she has been honored several times for the social awareness and tolerance that her participation in "Will & Grace" helped to establish. In 2004, Messing was honored by The Trevor Project at its Annual "Cracked Xmas 7" Charity Event. Messing, along with series co-star Megan Mullally, was honored with The Trevor Life Award for their example of acceptance and support of the Lesbian, Gay, Bisexual and Transgender (LGBT) community.
Most recently, Messing narrated the PSI TV & Online documentary special "ViewChange: HIV Prevention - Looking Back and Moving Forward." In 2009, Messing traveled with PSI to Zimbabwe, where she visited the country's programs in HIV/AIDS prevention and education, safe water and malaria. While there, she met with many high-ranking officials, including the U.S. Ambassador to Zimbabwe, Charles A. Ray; the Zimbabwean Minister of Health and Child Welfare, Dr. Henry Madzorera; and officials from several donor agencies including USAID, UNAIDS and DFID. In addition, Messing was the guest of honor and delivered a speech at the USAID annual Auxillia Chimuroso Awards celebrating community leadership and action on HIV/AIDS.
Messing also launched a BBC and UKAID film on PSI's Hair Salon network that promotes the correct and consistent use of female condoms through a network of hair stylists and male barbers trained as peer educators. Messing's trip shed a positive light on the area and highlighted the work being done by the Zimbabwean government and donor community. In March 2010, Messing traveled to Washington, D.C. to testify before the House Foreign Affairs Subcommittee on Africa and Global Health, where she highlighted successes from U.S. investments in HIV/AIDS while urging members to consider more funding for HIV prevention and treatment in developing countries. In July 2010, Messing taped the welcome speech for the XVIII International AIDS Conference, which took place in Vienna.
Messing currently resides in New York with her husband, writer/producer Daniel Zelman, and son Roman.