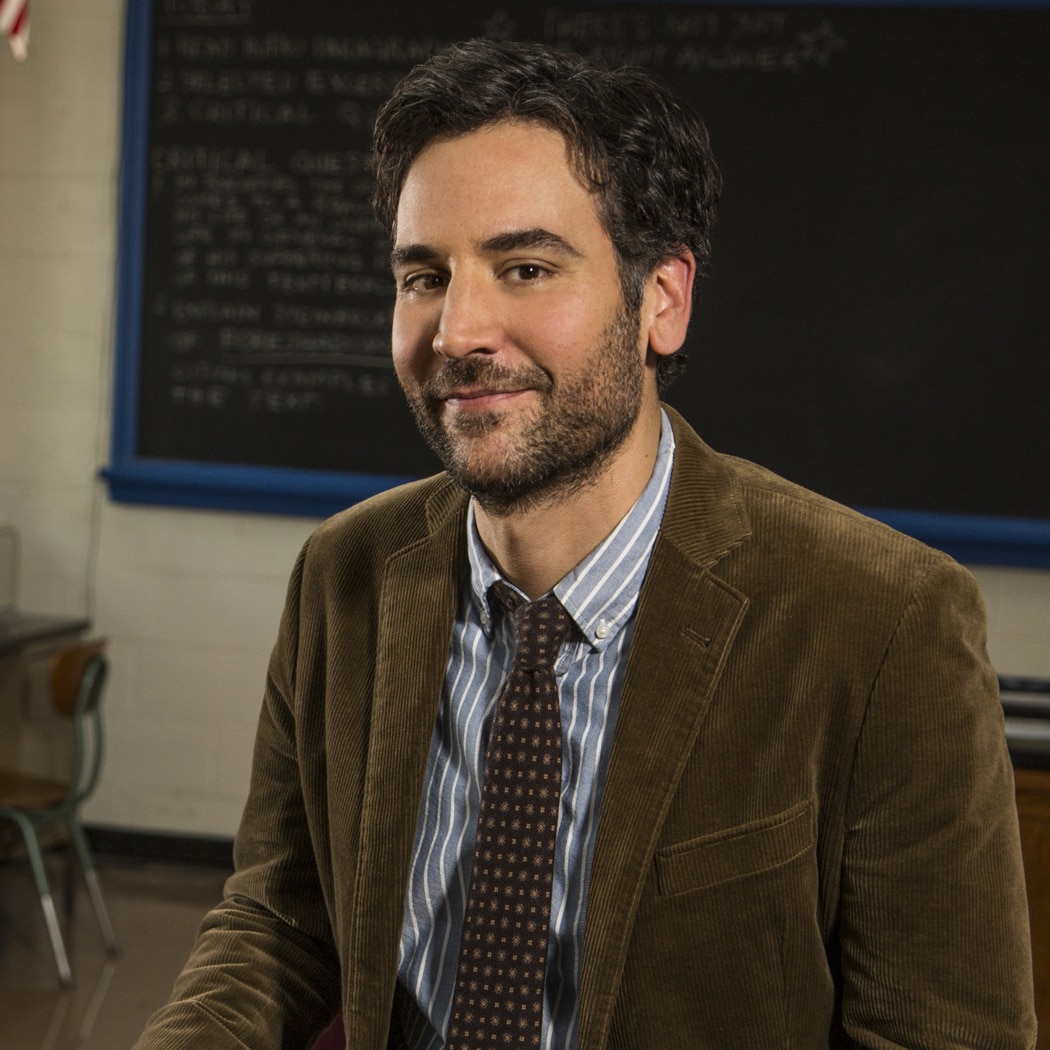 LOU MAZZUCHELLI
Played By Josh Radnor
Actor Bio
Josh Radnor plays high school teacher Lou Mazzuchelli on NBC's new midseason drama "Rise."

Radnor is best known for his leading role as Ted Mosby on CBS' groundbreaking and critically beloved series "How I Met Your Mother." Subsequently, he portrayed contract surgeon Jedediah Foster in the PBS Civil War drama "Mercy Street," from Executive Producers Ridley Scott, David W. Zucker, David Zabel and Lisa Q. Wolfinger.

On the big screen, Radnor will next be seen in Theresa Bennett's dark romantic comedy "Social Animals," opposite Noël Wells and Aya Cash. This follows his starring role in Jill Soloway's "Afternoon Delight," alongside Kathryn Hahn and Juno Temple, for which Soloway won the U.S. Dramatic Directing Award after its premiere at the 2013 Sundance Film Festival.

Behind the lens, Radnor has also made his mark as a director and writer. His most recent film, "Liberal Arts," for which he also served as a producer and co-starred alongside Elizabeth Olsen, Richard Jenkins and Allison Janney, premiered at the 2012 Sundance Film Festival. His directorial debut, "Happythankyoumoreplease," starred Richard Jenkins, Malin Akerman, Kate Mara, Zoe Kazan and Tony Hale. The film debuted at the 2010 Sundance Film Festival, where it won the Audience Award for Favorite U.S. Drama.

On stage, Radnor most recently performed in the world premiere of Richard Greenberg's "The Babylon Line," directed by Terry Kinney. This successful run was followed by his debut as a playwright with "Sacred Valley," which premiered at the Mainstage of Vassar and New York Stage and Film's Powerhouse Theater earlier this year.

Additional stage credits include the Broadway production of Ayad Akhtar's Pulitzer Prize-winning play "Disgraced," which received a 2015 Tony Award nomination for Best Play; Roundabout Theatre Company's special one-night-only gala reading of "She Loves Me"; the Ovation Award-winning world premiere production of Jon Robin Baitz's "The Paris Letter"; and his leading role as the title character in Terry Johnson's Broadway stage adaptation of the 1967 film and 1963 novella, "The Graduate."

Radnor recently teamed up with good friend Ben Lee to form Radnor & Lee. The indie-folk duo released their debut self-titled album in November, which features a dynamically uplifting philosophical and spiritual element.

A native of Columbus, Ohio, Radnor attended Kenyon College, where he won the Paul Newman Acting Trophy. He received his M.F.A. in acting from NYU's Tisch School of the Arts.

He currently resides in Los Angeles.