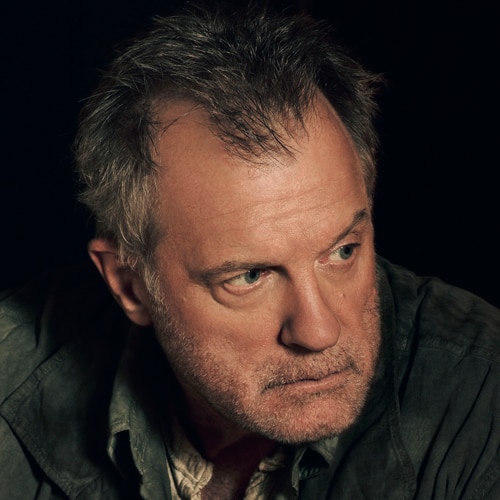 DR. GENE PORTER
Played By Stephen Collins
Actor Bio
Stephen Collins plays Dr. Gene Porter, the weathered and whip-smart doctor of a small Texas town and father of Rachel Matheson on the NBC adventure series, "Revolution." Collins starred as Reverend Eric Camden on the long-running family drama "7th Heaven" and has recently been seen on "Falling Skies," "The Office," "Scandal," "Devious Maids" and "The Fosters." His other television credits include "Tattingers," "Sisters," "Tales of the Gold Monkey" and "No Ordinary Family." He starred in the miniseries "Inside the Third Reich" with John Gielgud, Rutger Hauer and Blythe Danner; "Chiefs" with Charlton Heston and Billy Dee Williams; "The Two Mrs. Grenvilles" opposite Ann-Margret and Claudette Colbert in a role for which he was Emmy nominated; and as JFK in "A Woman Named Jackie," which won the 1992 Emmy for Outstanding Miniseries. Collins has starred in 20 movies for TV, including "The Betty Broderick Story" opposite Meredith Baxter and "An Unexpected Life" opposite Stockard Channing.
Collins' feature films include "The Three Stooges," "The First Wives Club" as Diane Keaton's husband, "Jumpin' Jack Flash," "Brewster's Millions," "Star Trek: The Motion Picture," in which he was briefly captain of the Enterprise, "All the President's Men" as Hugh Sloan, "Blood Diamond" and "Because I Said So," again opposite Diane Keaton.
On Broadway in 2008, Collins took over as King Arthur in Mike Nichols' "Spamalot." He performed in the original Broadway productions of Michael Weller's "Moonchildren" and Terrence McNally's "The Ritz," and also created roles in A.R. Gurney's "The Old Boy" and Christopher Durang's "Beyond Therapy" opposite Sigourney Weaver. His play "Super Sunday" was produced at The Williamstown Theater Festival, and he has two published novels, the first of which, erotic thriller "Eye Contact," was a best-seller for Bantam Books. He occasionally appears live in LA with his retro bar band, The 7th Band.
With Christopher Reeve, Ron Silver and Susan Sarandon, Collins was an original founder of The Creative Coalition, the arts advocacy political organization still based in New York.