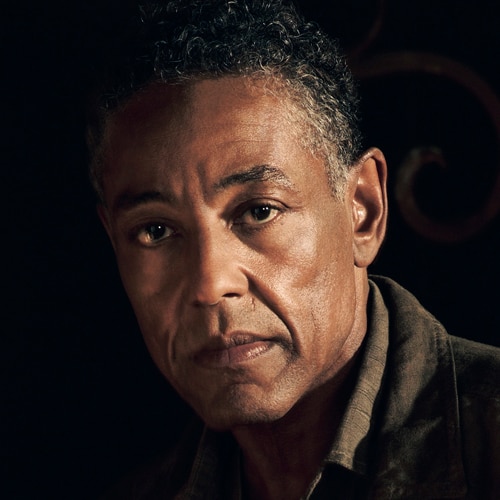 CAPTAIN TOM NEVILLE
Played By Giancarlo Esposito
Actor Bio
On the NBC adventure series "Revolution," Giancarlo Esposito plays Captain Tom Neville, a militia leader who becomes a different man when the world loses power. Television audiences know him best from his iconic portrayal of drug kingpin Gustavo "Gus" Fring on AMC's critically acclaimed award-winning series "Breaking Bad," for which he won the 2012 Critics' Choice Award and earned a 2012 Emmy nomination as well.
He recently finished production on the independent thriller "Poker Night" opposite Ron Perlman, Titus Welliver and Ron Eldard, starring as a seasoned police detective.
Esposito has appeared in notable films such as "Rabbit Hole," "The Usual Suspects," "Smoke" and "The Last Holiday." His performances in Spike Lee's films "Do the Right Thing," "Mo' Better Blues," "School Daze" and "Malcolm X" are among his most memorable. Esposito's other film credits include outstanding performances in "Alex Cross," "SherryBaby," "Ali," "Nothing to Lose," "Waiting to Exhale," "Bob Roberts," "King of New York" and "Cotton Club." In 1995, Esposito was recognized for his incredible work in "Fresh" with a nomination for an Independent Spirit Award.
In 2007, Esposito made his feature directorial debut, "Gospel Hill," through his production company, Quiet Hand Productions. Co-starring Esposito, Danny Glover, Angela Bassett, Julia Stiles, Taylor Kitsch and Samuel L. Jackson, the film won over nine awards at various acclaimed film festivals. Quiet Hand Productions aspires to make "conscious content" films that focus on the inspirational. Esposito plans to direct, produce and co-star in the company's four other projects in development.
Esposito's many television credits include "Community," "Once Upon a Time," "Homicide: Life on the Street," "Law and Order," "Bakersfield P.D.," "Touched by an Angel" and "Kidnapped."
He is also very well known to theatergoers for his award-winning work on stage. He recently starred in the Atlantic Theatre Company's world premiere of "Storefront Church," written and directed by Pulitzer Prize- and Tony Award-winner John Patrick Shanley. "Storefront Church" is the final installment of the "Church and State" trilogy that began with "Doubt." Esposito has won two Obie Awards for "Zooman and the Sign" at the Negro Ensemble Company and "Distant Fires" at the Atlantic Theatre Company, where he continues to perform and teach as a company member. His long list of Broadway credits includes "Sacrilege," "Seesaw," "Merrily We Roll Along" and "Lost in the Stars." He also co-starred on Broadway with James Earl Jones, Terrence Howard and Phylicia Rashad in Debbie Allen's rendition of the great classic Tennessee Williams play "Cat on a Hot Tin Roof."