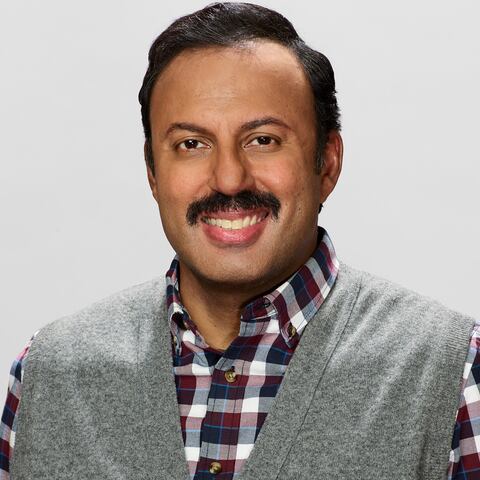 Reverend Jax
Played by
Rizwan Manji
Actor Bio
Rizwan Manji plays Reverend Jax on NBC's new comedy "Perfect Harmony."
Manji can currently be seen on the critically acclaimed CBC/Pop TV series "Schitt's Creek," and as Tick Pickwick on SYFY's "The Magicians." 

Manji is perhaps best known for playing Rajiv Gidwani, the assistant manager of a call center, on the NBC comedy "Outsourced." Other TV credits include "Mr. Robot," "Arrested Development," "Glee," "Backstrom," "Mom," "Rescue Me" and "Bones."

Some of Manji's memorable film credits include "Charlie Wilson's War," "The Dictator," "Transformers," "The Wolf of Wall Street," "Don Jon," "Equals," "The Tiger Hunter," "Paterson" and "The Man Who Killed Hitler and Then the Bigfoot," alongside Sam Elliott and Ron Livingston.

Manji was born in Toronto to Indian parents who immigrated there from Tanzania. His family is Ismaili Muslim of Gujarati Indian descent. Manji was raised in Calgary and later moved to the United States, where he attended the American Musical and Dramatic Academy.

Manji dedicates his time to the Aga Khan Foundation and its AKF WALKS. For 50 years, the foundation has partnered with communities in some of the most remote, hard-to-reach parts of Asia and Africa to build better futures together.

Manji lives in Sherman Oaks with his family.