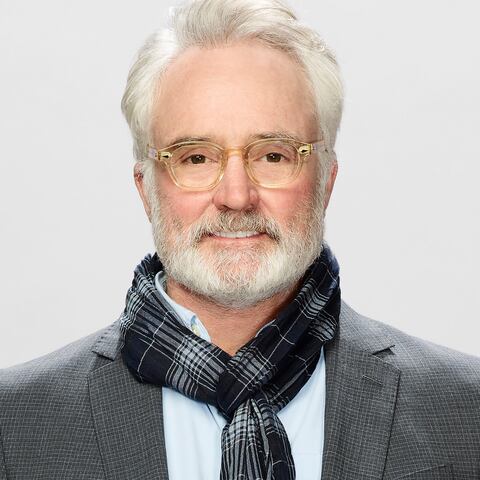 Arthur Cochran
Played by
Bradley Whitford
Actor Bio
Bradley Whitford stars as Arthur Cochran on NBC's new comedy series "Perfect Harmony." He also serves as an executive producer.

Whitford, a classically trained stage actor, quickly gained overnight fame as the sarcastic yet vulnerable Josh Lyman on NBC's iconic Emmy Award-winning drama "The West Wing." Working successfully and simultaneously in theater, film and television, Whitford is one of Hollywood's most sought-after talents.
 
Whitford recently starred in National Geographic's docudrama "Valley of the Boom," created by Matthew Carnahan and produced by Arianna Huffington, in which he played Netscape CEO James Barksdale. He also appeared in an episode of the Pop TV series "Flack," a drama about the cutthroat world of celebrity PR.

Whitford is currently guest-starring as Commander Lawrence, the architect of Gilead's economy, in the third season of Hulu's critically acclaimed series "The Handmaid's Tale." On the film side he is also currently appearing in "Godzilla: King of the Monsters" alongside Vera Farmiga, Kyle Chandler, Sally Hawkins and Millie Bobby Brown, and in Brie Larson's "Unicorn Store," which stars Larson along with Samuel L. Jackson and Joan Cusack. He recently co-starred in the crime drama "Destroyer" alongside Sebastian Stan and Nicole Kidman; the sci-fi thriller "The Darkest Minds," which is based on author Alexandra Bracken's popular young adult series of the same name; and Judy Greer's directorial debut, "A Happening of Monumental Proportions," which features an all-star ensemble that includes Jennifer Garner, Allison Janney, Common and Anders Holm.

Upcoming projects include Todd Robinson's political drama "The Last Full Measure," alongside Samuel L. Jackson, Sebastian Stan, Christopher Plummer and William Hurt; Greg Barker's Netflix drama "Sergio"; and "Phil," which was directed by Greg Kinnear.
 
In 2017, Whitford was seen in two Academy Award-nominated films: Steven Spielberg's "The Post," alongside Meryl Streep and Tom Hanks, and the critically acclaimed Blumhouse horror-thriller "Get Out," written and directed by Jordan Peele. Both films also received nominations for the Golden Globes and the BFCA Critics' Choice Awards, among numerous other accolades.
 
Additional film credits include the biopic "Megan Leavey," opposite Kate Mara and Edie Falco; the independent film "Other People," written and directed by "Saturday Night Live" writer Chris Kelly, which won the Grand Jury Prize at the 2016 Sundance Film Festival; HBO's Lyndon B. Johnson biopic "All the Way," opposite Bryan Cranston, which received multiple Emmy nominations; and many others, including the Hank Williams biopic "I Saw the Light," "Saving Mr. Banks," "The Sisterhood of the Traveling Pants," "Scent of a Woman," "Philadelphia" and "Presumed Innocent."
 
On the small screen, Whitford was seen on Amazon's award-winning comedy series "Transparent," for which he won both a 2015 Primetime Emmy Award for Outstanding Guest Actor in a Comedy Series (and was nominated in that same category again in 2016) and a Television Critics' Choice Award for Best Guest Performer in a Comedy Series.
 
Additional television credits include "Years of Living Dangerously," "Chicago Justice," "Mom," "Better Things," "Brooklyn Nine-Nine," "Happyish," "Trophy Wife," "The Good Guys," "Studio 60 on the Sunset Strip," "ER," "The X-Files" and "NYPD Blue." His performance as Josh Lyman on "The West Wing" earned him a 2001 Emmy Award as well as Golden Globe Award nominations in 2001 and 2002.
 
Growing up in Wisconsin, Whitford studied theater and English literature at Wesleyan University and attended Juilliard. Whitford received rave reviews for his return to the stage in the production of "Boeing-Boeing" at the Longacre Theatre opposite Mark Rylance, Christine Baranski, Kathryn Hahn, Gina Gershon and Mary McCormack. Whitford appeared on Broadway in Aaron Sorkin's military courtroom drama "A Few Good Men." He made his Manhattan Theatre Club professional performance debut in "Measure for Measure" at Lincoln Center Theater and held the title role in "Coriolanus" at the Folger Theatre in Washington, DC. Whitford also starred in the off-Broadway production of "Curse of the Starving Class" opposite Kathy Bates and performed in "Three Days of Rain" at the Manhattan.