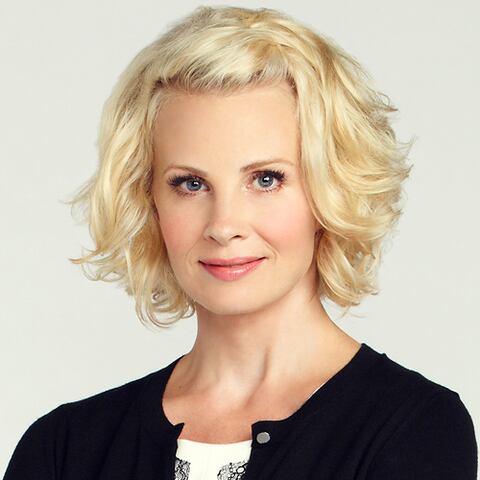 Kristina Braveman
Played by
Monica Potter
Actor Bio
Monica Potter stars on NBC's acclaimed drama series "Parenthood," which follows the lives of the close-knit Braverman family. Potter's portrayal of Kristina Braverman has captured the attention of audiences and critics alike since its first season. Now with the show in its final season, her character's on-camera struggles to raise three children (including one toddler, one pre-teen with autism and a college student), while fighting and winning an emotional battle with breast cancer, and running for mayor have already garnered her a 2014 Golden Globe nomination, a 2013 Critics Choice Award for Best Supporting Actress in a Drama, a TCA Award nomination for Individual Achievement in Drama, and continued Emmy buzz.
Potter burst onto the film scene with her co-starring role opposite Nicolas Cage in Michael Bay's "Con Air." She then starred with Robin Williams in the acclaimed dramedy "Patch Adams," and opposite Morgan Freeman in the thriller "Along Came a Spider," based on the James Patterson novel. Other film credits include the comedies "Head Over Heels," "I'm with Lucy" and the mega-hit horror classic "Saw." She also appeared in "Lower Learning" and "Last House on the Left."
In 2005, Potter was nominated for a Screen Actors Guild Award for Outstanding Performance by an Ensemble in a Comedy Series for her work on "Boston Legal." Other TV credits include TNT's "Trust Me" and USA's "Reversible Errors."
Potter grew up in Cleveland, Ohio, where she began modeling and appearing in commercials at the age of 12. In 1994, she made the move to Los Angeles to pursue acting and began her television career starring as Sharon Abbot in the popular daytime soap opera "The Young and the Restless."
Potter lends her support to charities such as St. Jude Children's Hospital, Christian Appalachian Project and the Lollipop Theater Network, a nonprofit organization that arranges showings of first-run movies to children confined to hospitals. Additionally, she supports the USO (United Service Organizations Inc.) and National Law Enforcement Officers Memorial Fund, as well as the Adopt a Platoon organization which encourages support to deployed soldiers through letters, care packages, pen pal campaigns and monetary donations.
As the mother of three, Potter enjoys writing, cooking new recipes for her family and inventing all-natural cleaning supplies inspired by her garden. She is also an avid home decorator. She takes great pride in sharing all those tips on her website, www.mrspotter.com, along with her recently launched all-natural Monica Potter Home collection. In addition, she has recently purchased her childhood home, and is in the process of renovating it to be the future headquarters of Monica Potter Home. The company will provide a variety of products, giving Potter the opportunity to tap into the resources of her hometown Cleveland community, while creating jobs and working with local artisans.