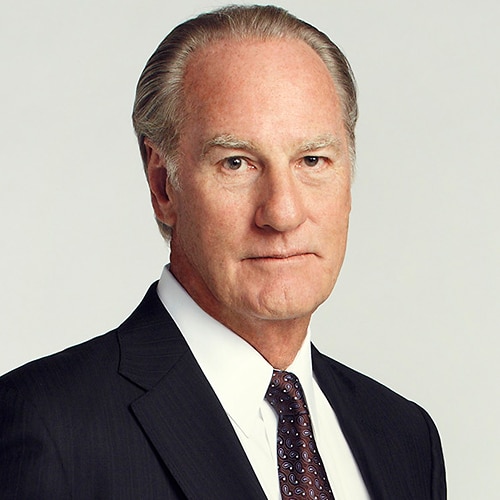 ZEEK BRAVERMAN
Played By Craig T. Nelson
Actor Bio
Emmy Award winner Craig T. Nelson portrays Zeek Braverman on NBC's drama series "Parenthood." The gregarious patriarch of the Braverman family, Zeek has tried his hand at almost everything. He has been a soldier in Vietnam, an activist hippie, an aspiring actor, a shrewd entrepreneur and most recently a counselor for a returning Afghanistan war veteran. But the role he cherishes most is that of being a father and a grandfather to the Braverman clan.
Nelson is a man of many talents… actor, writer, director and producer. He starred as Jack Mannion on "The District," a drama that was inspired by the experiences of real-life police crime fighter Jack Maple. Mannion was an equal opportunity antagonist and champion of the underdog, who became the new Police Chief of Washington, D.C., a city in desperate need of a shakedown. "The District" aired for four seasons, 2000-2004. Nelson also served as co-executive producer and directed episodes.
In 1997, he completed his eighth and final season on "Coach," starring as Hayden Fox. He directed numerous episodes and received three Emmy nominations: 1990, 1991 and 1992 for Outstanding Lead Actor in a Comedy Series, which led to a win for the 1991-1992 season. He has also been honored by the Hollywood Foreign Press Association with four Golden Globe nominations.

Upon completion of his successful series "Coach," Nelson had a chance to vary his projects, including making his Broadway debut as Nat Miller in Eugene O'Neill's "Ah, Wilderness!" at the Vivian Beaumont Theater/Lincoln Center in the spring of 1998. The show played to rave reviews during its limited run.
Nelson was born in Spokane, Washington, on April 4. He has always been interested in music, playing drums and guitar through high school and college. He attended the University of Arizona and studied at the Oxford Theater in Los Angeles.
He began his career as a writer/performer on the "Lohman and Barkley Show," where his talent as a writer garnered him a Los Angeles Emmy Award. Nelson's writing credits include "The Alan King Special" and "The Tim Conway Show."


Nelson's guest-star appearances include: the series finale of "Monk"; a three-episode arc on "CSI:NY"; four episodes of "My Name is Earl"; "The Mary Tyler Moore Show"; and "Private Benjamin." He starred in the critically acclaimed series "Call to Glory" and directed its final episode. His television movies include Showtime's award-winning "Dirty Pictures," NBC's "Take Me Home Again" with Kirk Douglas, "Rage," "Toast of Manhattan," "Alex: The Life of a Child," "The Switch," "The Fire Next Time" and HBO's "The Josephine Baker Story." His mini-series credits include NBC's "To Serve and Protect" and "Creature." He also co-hosted the television special "The Ultimate Driving Challenge" with Paula Zahn.
When one adds writing, directing, and producing to Nelson's list of credits, it's no mystery as to why he formed Family Tree Productions to develop and produce motion picture and television projects. A special project for Nelson was the television movie "Ride with the Wind." The story revolves around a young boy, and it is one of hope, discovery and recovery. It was scripted by Nelson, who also served as executive producer under the banner of his Family Tree Productions, in association with Hearst Entertainment.
In 2004 audiences got to hear a new side of the man. He voiced Bob Parr, or as he was known in his superhero days, Mr. Incredible, in the Oscar-winning Walt Disney Picture/Pixar Animation Studios "The Incredibles." The film is a DVD bestseller.
Nelson's feature film credits include "Get Hard" with Will Ferrell and Kevin Hart, to be released by Warner Bros on March 27, 2015; "The Company Men," written and directed by John Wells, and also starring Tommy Lee Jones, Ben Affleck and Kevin Costner; "The Proposal" with Sandra Bullock and Ryan Reynolds; "Blades of Glory" with Will Ferrell; "The Family Stone" with Sarah Jessica Parker and Diane Keaton; "The Skulls"; "All Over Again"; "Devil's Advocate," in which he co-starred with Al Pacino and Keanu Reeves; "Ghosts of Mississippi" with Whoopi Goldberg and directed by Rob Reiner; "I'm Not Rappaport," co-starring Walter Matthau and Ossie Davis; "Poltergeist I" and "Poltergeist II - The Other Side" (he contributed to the screenplay); "Action Jackson"; "The Killing Fields"; "Silkwood"; and "The Osterman Weekend."


He became enthralled with the art of auto racing as a participant in the 1991 Toyota Pro Celebrity Grand Prix. He came in third and was hooked. He formed Screaming Eagles Racing Enterprise in the spring of 1992 and not only owned the team, but drove as well. The team competed in the American City Racing League and the International Motor Sports Association's World Sports Car series. Nelson raced in the Porsche Super Cup Series, May 1994, Monte Carlo, Monaco. The team was disbanded in 1998. The following year he was a guest driver, in a Corvette, in the 100 BF Goodrich Tires Trans Am Series Race at Toyota Grand Prix of Long Beach, and in the Tenneco Detroit Grand Prix.
Besides his love of show business, music and auto racing, Nelson's passion for golf is also well documented. He was a champion amateur golfer in high school and has been known to shoot in the low 70s. In the December 2007 issue of Golf Digest, he was ranked 4th out of 100 TV and film stars.
Nelson has three children, eight grandchildren and two great-grandchildren. He and his wife, Doria, make their home in Los Angeles.