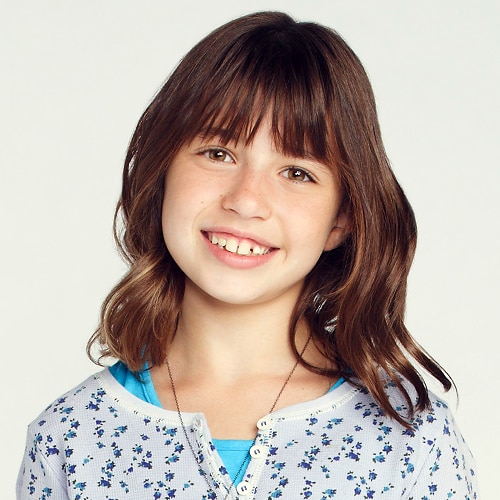 SYDNEY GRAHAM
Played By Savannah Paige Rae
Actor Bio
Savannah Paige Rae portrays Sydney Graham on NBC's drama series "Parenthood." Sydney is Julia and Joel's adorable and feisty daughter. Sydney is close to her dad Joel (Sam Jaeger). Sydney's life has recently turned upside down with due to Joel and Julia's marriage struggles. Sydney is outspoken and not afraid to demand her rights when challenged, yet still possesses a certain vulnerability at times which makes it impossible for her to be ignored.
Rae began her career at the young age of three. She credits her older sister Emily Evan Rae, an accomplished child actress herself, for helping her prepare for each episode by running lines and coaching her on her scenes. Rae's first television audition was for the hit drama series "House." After spending the day on set, she was hooked, and continued auditioning for both theatrical and commercial roles. You may recognize her as the little girl who stuffed a toy monkey in her dad's briefcase in the AT&T commercial. Early success continued to follow her, and she quickly booked a role playing the younger version of her real-life sister in the film "Phoenix Falling." Rae's next role was Charlotte Foster in the film "Date Night" directed by Shawn Levy, where she played the exuberant and spunky daughter of Steve Carrell and Tina Fey who go on a date night while Leighton Meester plays her babysitter. Some of her other credits include "My Best Friend's Girl" and "Dexter," where she plays young Debra Morgan (Dexter's sister) in Showtime's Emmy Award-winning drama. Rae was also recently recognized for her outstanding acting on "Parenthood." She was nominated and won the 34th Annual Young Artist Award for Best Performance in a Television Series-Leading Young Actress.
Rae has a caring heart and this is shown with her philanthropic work with organizations that care for animals, children's cancer and hunger. She donates time and effort towards these important causes and realizes the importance of making a difference.
The "Parenthood" cast seems like a second family to Rae, who bonded quickly with Sam Jaeger and thinks Dax Shepard is hysterical. Her favorite scenes to film are the ones where the whole Braverman family is together.
Rae's latest film is "Miracle at Gate 213," starring alongside Oscar winner Louis Gossett, Jr., Shirley Jones and Della Reese, which will air on NBC on Christmas Eve.