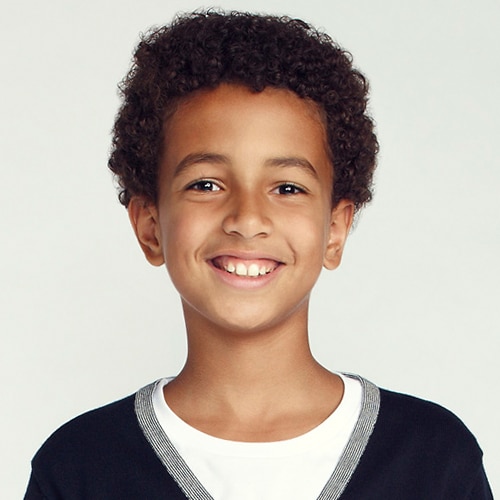 JABBAR
Played By Tyree Brown
Actor Bio
Tyree Brown portrays Jabbar Trussell, Crosby (Dax Shepard) and Jasmine's (Joy Bryant) young son. Born in Sacramento, California, Brown started his career at the age of 3. Inspired by his sister's passion for acting and modeling, he met with a San Francisco agent and booked his first print job two weeks after being signed. Brown's natural charisma and his unique look secured him several print advertisement jobs for Pottery Barn Kids, AT&T, Clorox, Red Envelope and more. He worked on his first Wal-Mart commercial at 4 and at the age of 5, he auditioned for the pilot for "Parenthood." The showrunners of "Parenthood" liked the appeal Brown brought to the screen and he was offered a recurring role in the show's first season. Brown's natural ability to act and improvise alongside his co-star Dax Shepard at such a young age earned him a series regular position on the show's second season.
Brown worked on his first comedy TV show "Mr. Box Office" in 2013 as a guest star, and that experience made him realize how much he enjoys doing comedy. Brown also had a guest starring role in the TV series "The First Family" in 2013. He has done several voiceover jobs for companies such as Wal-Mart, US Cellular and Pixar. Brown did ADR work for the Pixar movie "Monsters University" and played the voice of Young Kristoff in the top-grossing animated movie of all time, "Frozen." He can also be seen in an upcoming TV movie titled "Only Human."
Brown won a Young Artist Award for his supporting role on "Parenthood" in 2013 and 2014.
In his spare time, Brown loves playing with his friends, going to the movies, swimming at the beach, going to amusement parks and playing sports such as soccer, basketball and football. His parents have made sure his life stays balanced by limiting his acting in the summertime, allowing him to just be a kid and have fun. He's just the "kid next door," riding his bike and playing Xbox with the neighborhood boys in the summer. His summer tradition is going to his aunt's house any chance he gets to swim in her pool and play with his cousins in Sacramento.
Brown currently lives between Sacramento and Los Angeles with his sister Mackenzie, his mom, dad and grandmother.