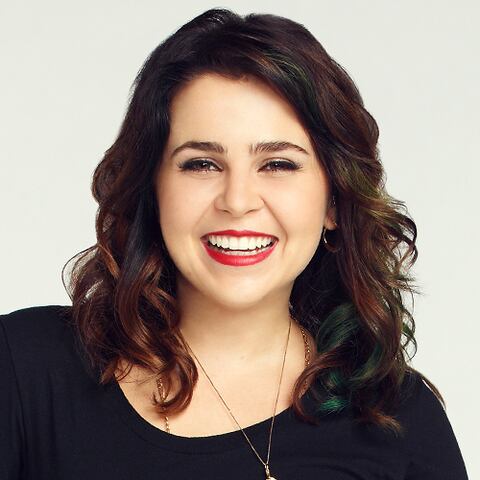 Amber Holt
Played by
Mae Whitman
Actor Bio
Mae Whitman stars as Amber Holt, the bright but rebellious daughter of Sarah Braverman (Lauren Graham) in NBC's drama series "Parenthood."
Whitman is a versatile actress in both film and television. Next, she will lead CBS Films comedy "The DUFF," adapted from Kody Keplinger's coming-of-age novel and due in theaters in February 2015. Whitman stars as Bianca, a high school senior who instigates a social pecking order revolution after finding out she has been labeled the DUFF (Designated Ugly Fat Friend) to her prettier, more popular friends.
She appeared in the critically acclaimed film "The Perks of Being a Wallflower" as Mary Elizabeth, starring opposite Logan Lerman, Emma Watson and Ezra Miller. She also let her comedic chops shine, reprising her role as Ann Veal in the Emmy Award-winning "Arrested Development" on Netflix. A talented voiceover actress, Whitman is the voice of Tinker Bell in the hugely successful Disney Fairies franchise, and she voices the character of April O'Neil in "Teenage Mutant Ninja Turtles" on Nickelodeon.
When Whitman was 3-1/2 years old, she inadvertently wandered into her mother's commercial audition - and booked the job. A year later she was cast in her first feature film, "When a Man Loves a Woman," starring Meg Ryan and Andy Garcia, followed by the comedy "Bye Bye Love," with Randy Quaid, Paul Reiser and Amy Brenneman.
Next came the record-breaking feature "Independence Day," appearing as the President's daughter. "One Fine Day" was Whitman's fourth feature film (in which she played George Clooney's daughter). Robert Altman and Kenneth Branagh introduced her to improvisation with "The Gingerbread Man." In "Hope Floats" she worked alongside Sandra Bullock, Gena Rowlands and Harry Connick, Jr. Next came a trio of independents: the award-winning "American Rhapsody" with Scarlett Johansson; Henry Jaglom's "Going Shopping"; and the festival hit "Bondage" with llleana Douglas and Michael Angarano.

Whitman also appeared in "Scott Pilgrim vs. the World," the film adaptation of the underground graphic novel sensation. Whitman starred in the thriller "The Factory" opposite John Cusack, and the comedy "Spring Breakdown," with Amy Poehler, Parker Posey and Amber Tamblyn. She also played Diane Lane's daughter in "Nights in Rodanthe." Whitman continued to show her versatility with the suspense/horror picture "Boogeyman 2."

She starred alongside Andre Braugher in the six-part miniseries "Thief." She has guest-starred on "Web Therapy," "Masters of Sex," "Weeds," "Grey's Anatomy," "Justice," "Desperate Housewives," "Cold Case," "Presidio Med," "Century City," "Judging Amy," "Friends," "Providence," "Early Edition" and PBS' acclaimed televised radio play, "Merry Christmas, George Bailey." Her TV series credits include the title role in "State of Grace" and recurring roles in "Chicago Hope," "JAG" and "In Treatment."
Whitman's television movies include "Death in Paradise," "The Judds," "Degree of Guilt," "Invisible Child," "After Jimmy" and two for Hallmark: "A Season for Miracles" and "Love's Abiding Joy."
Whitman's love for animation continues as she voices the character Katara in the wildly successful anime-style series "Avatar" and voices both Rose and her alter ego, Huntsgirl, on "American Dragon." She also co-starred with Haley Joel Osment as the voice of Shanti in "Jungle Book 2."
Whitman currently resides in Los Angeles.