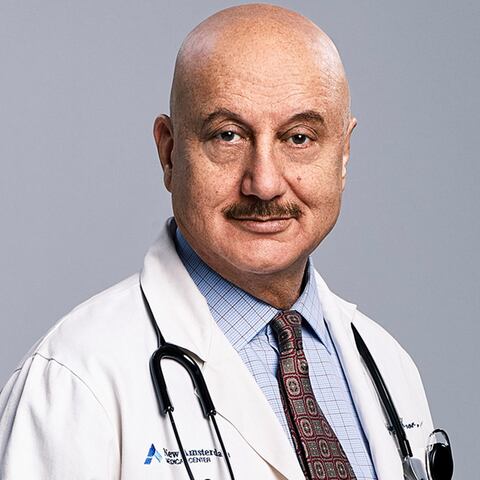 Dr. Vijay Kapoor
Played by
Anupam Kher
Actor Bio
Anupam Kher currently stars as Dr. Vijay Kapoor on the NBC drama "New Amsterdam."
 
Kher is one of India's most prominent actors. He has appeared in more than 100 plays and has been featured in over 500 films. Besides Hindi cinema, his résumé includes many acclaimed international films, including the Golden Globe-nominated "Bend It Like Beckham," Ang Lee's Venice Film Festival's Golden Lion-winning "Lust," David O. Russell's Oscar-nominated "Silver Linings Playbook" and the recent Sundance hit "The Big Sick," in which he was nominated for the SAG Award for Outstanding Performance by a Cast in a Motion Picture. This year, Kher was nominated for a BAFTA for his performance in the BBC TV movie "The Boy with the Topknot."
 
In 2017, Kher co-starred in "The Family Man," which premiered at the Toronto Film Festival, opposite Gerard Butler, Willem Dafoe and Alfred Molina. Kher can be seen in two Netflix series, "Sense8," created by the Wachowskis, and "Indian Detective," featuring Russell Peters. This year, Kher is also in "Hotel Mumbai," opposite Dev Patel and Armie Hammer, based on the devastating 2008 Mumbai terrorist attacks, which is likely to be a festival film. He most recently wrapped "Mrs. Wilson," a BBC miniseries, opposite Ruth Wilson.
 
Kher has been the recipient of a record eight consecutive Filmfare Awards. Recently, he was given the Outstanding Contribution to Indian Cinema Award at the 2018 IIFA (Indian International Film Awards). He has also been honored with the Padma Bhushan Award, the third highest civilian award in the Republic of India. He was previously the chairman of the Central Board of Film Certification and National School of Drama in India, and is the current chairman of the Film and Television Institute of India. Kher has a massive international following, with more than 12.5 million Twitter followers and over 1.6 million Instagram followers.
 
Beyond acting, Kher is a teacher, author, motivational speaker and activist. Kher is the author of the best-selling motivational book The Best Thing About You Is You!, and was ranked No. 12 on Richtopia's 2017 list of the top 200 authors in the world. He is widely sought after as a motivational speaker, having delivered speeches at prestigious institutes such as the Kellogg School of Management, London School of Economics, New York Film Academy and Babson Business College, among many others. He has been honored with the Dalai Lama Award for his work with underprivileged children, a service that he continues to offer through the Anupam Kher Foundation. He is also the UN brand ambassador for the organization's HeForShe campaign that strives for gender equality.
 
Kher is married to actress and current Member of Indian Parliament Kirron Kher, and resides in Mumbai, India.