NBC Insider Exclusive
Create a free profile to get unlimited access to exclusive show news, updates, and more!
Sign Up For Free to View
After the Latest Young Rock, It's Clear No One Puts Ata Johnson in a Corner
Ata Johnson navigates a tricky situation like a boss!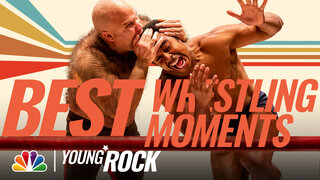 Young Rock Season 3 Episode 3 examines the tough decisions Ata Johnson (Stacey Leilua) must make to keep her family afloat when Rocky's career takes another unexpected turn. In a recent interview with Leilua, she revealed the Episode 3 story arc is one of her favorite plot lines of the season. 
"There's a bit of a rivalry that happens—we saw a bit of it in Season 2—with Lars Anderson taking over the business," Leilua told NBC Insider. "We see that play out a bit more in the beginning few episodes of Season 3, and it was fun to play, and a cool mix of dramatic moments and a bit of a roller coaster for Ata's character, which was nice to work with."
It all starts when Rocky's contract with the WWF is suddenly terminated. But instead of crumbling under the weight of more bad news, Ata tries to bring Rocky into the family business. 
"What happens to you happens to me, and if you're out at the WWF, then that's their loss and PPW's gain," says Ata. "I'm going to set up a meeting with my mom so we can talk about you wrestling in Hawaii full time. This is why we have a family business, to take care of family."
Ata's mother, Lia Maivia (portrayed by Ana Tuisila), agrees to sign Rocky, but it's not long before tensions rise between the PPW booking manager and star wrestler Lars Anderson. 
It's clear that Lars has won the favor of Lia and embedded himself into a position of power in the company, and Ata begins to resent it. This resentment grows to new heights when Lars sabotages Rocky's first PPW match, ultimately stealing the spotlight. 
Ata and Rocky reach their limit and invite Lia for a private dinner where they drop the bomb that, "We can't work with him anymore—Either Lars goes, or we go."
However, Lia isn't convinced that Lars is a problem. 
"PPW is a family business, but it's also my business, and business is good," explains Lia. "Lars is a part of that….Our profits have increased ever since he joined. We went from paper to pip, and that's money in my pocket. That's good business, that's Lars, and Lars stays."
Ata accepts her mother's decision but makes it clear that she and Rocky intend to start their own wrestling promotion company. Ata's mom wishes them well but remains firm on her decision to keep Lars involved in PPW.
Ultimately, The Rock tells this story to Randall Park to justify why he won't help President Taft with a national security issue—it's a matter of independence and pride. However, by the end, Park convinces The Rock to put his pride aside for the greater good of the American people. 
Watch Young Rock Fridays at 8:30/7:30c on NBC and the next day on ​​Peacock