NBC Insider Exclusive
Create a free profile to get unlimited access to exclusive show news, updates, and more!
Sign Up For Free to View
Meet the Cast of Kevin Costner's Must-Watch Neo-Western Yellowstone
Yellowstone's cast of characters has become almost as expansive as the titular ranch where the action takes place.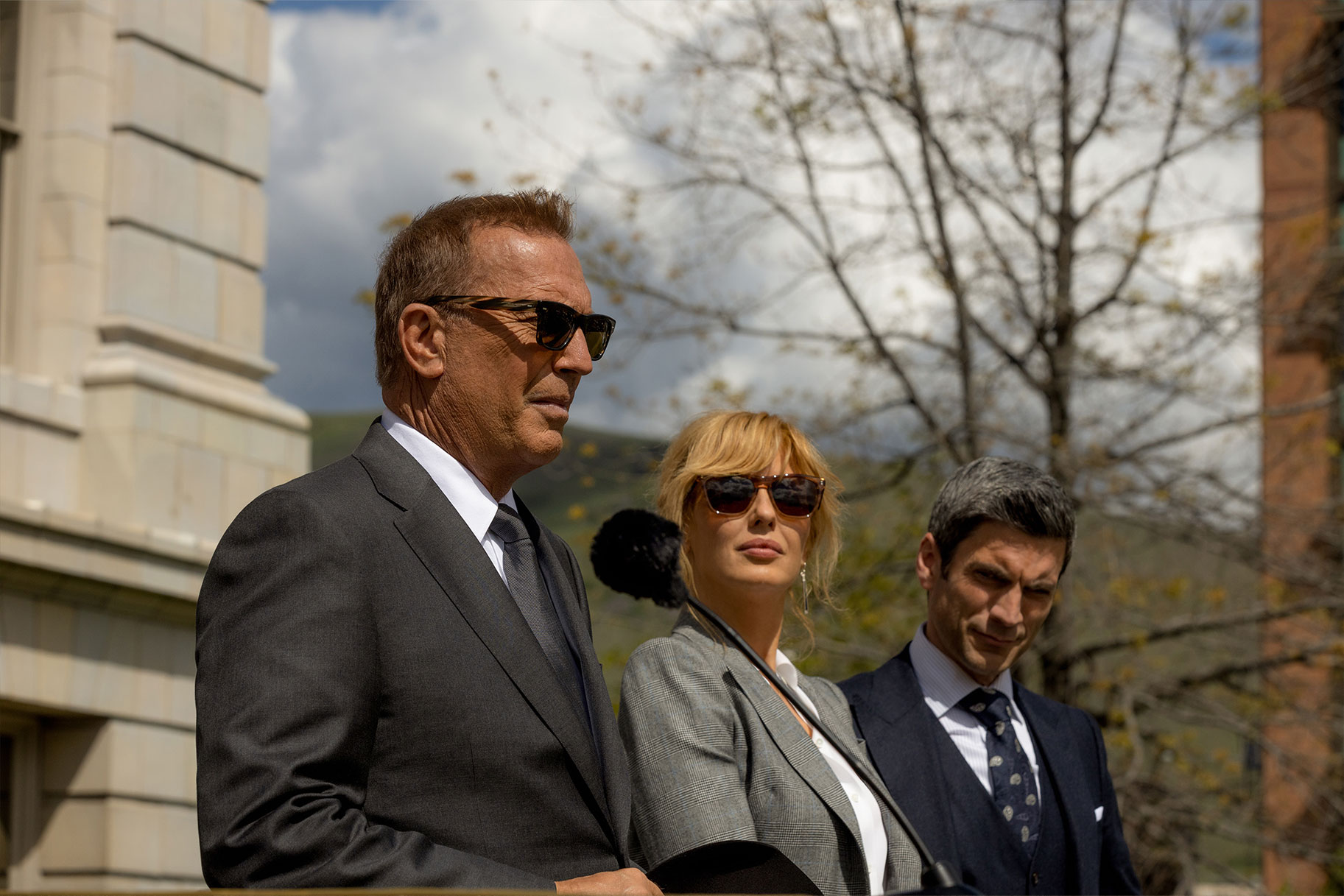 This story contains mild spoilers for Yellowstone.
Yellowstone, the smash-hit TV series about the Dutton family and their attempts to protect their family legacy and ranch (by any means necessary) is streaming on Peacock. With four seasons and a fifth underway, Yellowstone's cast of characters has become almost as expansive as the titular ranch where the action takes place.
As is befitting Yellowstone, we've roped up the main cast with a brief explainer of who the main actors play and what movies and TV shows you might know them from. 
John Dutton III (Kevin Costner)
John Dutton III is the main character of Yellowstone (though Kevin Costner, who plays him, announced he'll be leaving the series behind with Season 5). He's the patriarch of the Dutton family and owner of the Yellowstone Dutton Ranch. A widower, his missing is to deal with his three children and to protect the Yellowstone Ranch, and he's willing to go to great lengths and rise to (often unwanted) positions of power to do so. 
Costner, a two-time Academy Award winner, is known for roles in acclaimed films like The Untouchables, Field of Dreams, JFK, and Dances with Wolves, the last of which he also won an Oscar for directing. Yellowstone, which he also executive produces, is by far his biggest TV role, though he also starred in the Hatfields & McCoys miniseries in 2012.
Kayce Dutton (Luke Grimes)
Kayce is John's youngest son, a former U.S. Navy SEAL-turned-livestock agent, and the black sheep of the family. At the show's start, he's not living on the ranch but instead on the fictional nearby Broken Rock Indian Reservation with his Native wife, Monica. The tension between the reservation and the ranch — and Kayce's status as someone with a foot in both camps — is a big source of drama in the first season. 
In addition to Yellowstone, actor Luke Grimes is known for films like American Sniper and Fifty Shades of Grey and its sequels, where he played the brother of the main character.  
Beth Dutton (Kelly Reilly)
Beth is the Duttons' only daughter, and she's a tough-as-nails financier who is very loyal to her father and very abrasive, to say the least with everyone else. And her will-they-won't-they romance with the Yellowstone's foreman, Rip Wheeler, is a fan-favorite part of the series.
The woman who plays her, Kelly Reilly, is an English actress known for TV roles like the British drama Above Suspicion, Britannia, and the second season of True Detective. Her film roles include the Guy Ritchie Sherlock Holmes movies and Flight. 
Jamie Dutton (Wes Bentley)
Jamie Dutton is the Duttons' adoptive son, as John and his late wife Evelyn took him in as a child after his biological father murdered his biological mother and went to prison. Jamie, who is in politics by way of being a lawyer, has a tense relationship with the Duttons, and he and Beth honestly and truly hate each other. 
Wes Bentley is known for films like American Beauty, Interstellar, Mission: Impossible – Fallout, and The Hunger Games, where he played that dude with the crazy beard. On TV, he's also been a regular fixture in various seasons of American Horror Story in addition to Yellowstone. 
Rip Wheeler (Cole Hauser)
Rip Wheeler is the foreman at Yellowstone Ranch and a loyal ally to John, who took him in as a kid as a runaway. Rip and Beth date each other on and off throughout the series, a relationship that's not without its share of both passion and problems.
Actor Cole Hauser is known for movies like Higher Learning, Dazed and Confused, Good Will Hunting, Pitch Black, and 2 Fast 2 Furious. 
Monica Dutton (Kelsey Asbille)
Monica Dutton is Kayce's wife, making her John's daughter-in-law. A member of the Broken Rock Indian Reservation, she and Kayce attempt to raise their son, Tate, while dealing with the sometimes dueling pressures of her heritage and his family.
Actress Kelsey Asbille is a former Disney star, having led the Disney XD series Pair of Kings. She's also been in Teen Wolf, One Tree Hill, and Fargo in addition to Yellowstone. 
Thomas Rainwater (Gil Birmingham)
Thomas Rainwater is the chief of the Broken Rock Indian Reservation and an avowed opponent of the Duttons, who he views as having stolen Native land for their ranch.
Birmingham's had a prolific film and TV career, popping up in roles of varying sizes, notably Banshee, The Unbreakable Kimmy Schmidt, and The Twilight Saga, where he played Billy Black. 
Tate Dutton (Brecken Merrill)
Tate Dutton is the half-Native son of Kayce and Monica, and John Dutton's only grandchild.
As a child actor, Brecken Merrill's filmography isn't vast, but he's been on This Is Us in addition to his Yellowstone role. 
Yellowstone is available to stream on Peacock.