NBC Insider Exclusive
Create a free profile to get unlimited access to exclusive show news, updates, and more!
Sign Up For Free to View
Ernie Hudson Talks Leaping Into Quantum Leap as Herbert 'Magic' Williams
"I'm really happy to be a part of this," the actor tells NBC Insider.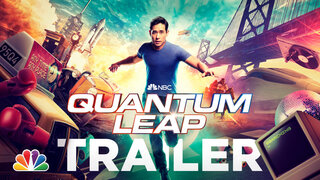 Fans of the new Quantum Leap can't get enough of actor Ernie Hudson as the iconic Herbert "Magic" Williams. Magic holds a lot of significance in the new iteration of the show—but viewers may remember he first appeared in the original QL in Season 3, Episode 2, titled "The Leap Home, Part II (Vietnam)." In the episode, Sam Beckett (Scott Bakula) leaps into Magic to save his brother during the Vietnam War. At the time, Magic was played by actor Christopher Kirby, but now Hudson is holding the reins.  
"My sons and I used to watch the show, and it was a great show to come together on," Hudson tells NBC Insider about the original QL. "A lot of the things they watch, I don't watch and visa-versa, but this was the show. We could all have our opinions on the leap and what happened and how it changed and all that stuff. It's one of those family shows that crosses generations."
WATCH EPISODES OF QUANTUM LEAP
Since Hudson is playing a returning character, he knew he had to bring his A-game to ensure OG fans weren't disappointed. Unsurprisingly, though, the accomplished actor understood his character's internal and external growth during Quantum Leap's 30-year hiatus. 
"Magic appeared in the original series, and now he's at a different part of his life," Hudson says. "But he's also very, very much involved in getting the project up and running again because it had been shut down."
According to Hudson, agreeing to be a part of this show was a no-brainer. The hard-working and talented cast made the decision to sign on an easy one. "Once I was explained the concept and how we move this project forward, that was very exciting," he says. "I'm really happy to be a part of this. When I met the core cast, I was really impressed with how ready and committed they were to really, really show up and do their best."
And the hard work is paying off. Quantum Leap Season 1 has been extended an additional six episodes, bringing the total number to 19. To watch Quantum Leap, tune in Mondays at 10/9c on NBC and next day on Peacock.