NBC Insider Exclusive
Create a free profile to get unlimited access to exclusive show news, updates, and more!
Sign Up For Free to View
Hot Wheels™: Ultimate Challenge Judges Debate Final Three Super Fans Ahead of 2-Part Finale
Which of the final eight contestants will go on to the two-part finale?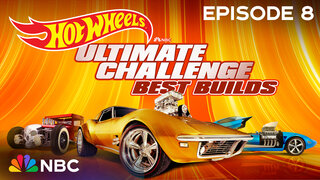 After several weeks of intense competition and larger-than-life Hot Wheels™, the Hot Wheels: Ultimate Challenge season finale is almost here. The two-part finale — with episodes airing on Aug. 1 and 8 — will reveal the three Hot Wheels Super Fans chosen to compete for the ultimate prize: an additional $50,000, and their winning car being transformed into an official Hot Wheels diecast.
In the official Ultimate Challenge after show, Best Builds, judges Dalal Elsheikh and Hertrech Eugene and host Rutledge Wood name six of the eight finalists as top contenders for the three final spots in the finale.
So, what are their thoughts on each of the six top-tier finalists? 
RELATED: Hot Wheels™: Ultimate Challenge Episode 7 Winner Explains His Mardi Gras Inspiration
Elsheikh had to give it to Arushi and her Jaipur Jewel from Episode 4. "That one was my favorite," she said. "It was so bright, it was so vibrant. I could really see her story and her Indian heritage come through."
Her second draft pick? Aldavid's Spirit of Detroit — which she was quick to admit was a biased choice due to her calling Detroit home.
For Eugene, it's Nick Harrison's Mardi Gras Mania (Episode 7) and Lauren Partin's Racer Girl (Episode 8). "Because both of them would make such fun drift cars," he explained. "They're both really low, they both have custom body kits. Racer Girl has wide fenders and they did everything possible to fit those 26-inch gold wheels on the Mardi Gras Mania."
And the final picks went to Wood, who had to give the love to Sheila's Monster Bug ("Because seeing a car that everyone knows so well — that iconic, '73 VW Beetle — turned into a Texas Horned Lizard, that was bonkers") and Jim's Power Charged wheelie-popping Dodge Charger.
As Wood then went on to explain, in the first part of the finale, the judges will have to choose which of the eight finalists (one of these previously mentioned six, perhaps?) will go on to those three finale spots.
And the finale is no walk in the park, either. The three finalists will be assigned cars at random (so there will be no nostalgic connection like they had the first go-around), and those cars will have already taken Hot Wheels form many times before. The "ultimate challenge" in this case will be to create something new out of a well-known and well-loved design.
Find out who the three final competitors are when Hot Wheels: Ultimate Challenge kicks off its two-part finale on Tues., Aug. 1 on NBC. 
New episodes of Hot Wheels: Ultimate Challenge air on Tuesdays at 10PM ET/PT on NBC and the next day on Peacock. New episodes of the official Ultimate Challenge after show, Best Builds, air after each new episode.