NBC Insider Exclusive
Create a free profile to get unlimited access to exclusive show news, updates, and more!
Sign Up For Free to View
Why Camila Cabello Felt 'Most Terrible' After Reina Ley and Grace Bello's Battle
It was a hard choice to make!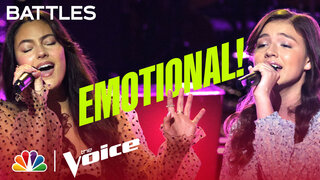 Camila Cabello had a tough choice to make after the Battle between Reina Ley and Grace Bello. Both singers beautifully covered "Time After Time" by Cyndi Lauper, but it was clear nerves were getting the better of Bello. 
"I wish you could get in your head how super-talented you are," Blake Shelton told Bello after her performance. "I just felt like you've lost some confidence at some point between the Blind Auditions and right now. You seem scared up there, which, by the way, is ridiculous because you're so good." 
"So good," Cabello agreed, before Shelton continued, "Whereas Reina, she's 13 and she doesn't even realize how much pressure this should be. 'I'm about to be on The Voice!' She just came out here and did her thing and owned it and because of that your voice just came through stronger." 
Even still, Cabello struggled with choosing a winner on this Battle. In fact, she remarked, "This is just a sucky situation because I have two really talented people. I don't think one was better than the other. If I had a Save, neither of you would be going home...Both of you guys had an even performance. I hate this so much. This is the most terrible I've felt literally in all of these Battles."
Ultimately, though, Cabello chose Reina Ley to continue on in the competition, bringing the 13-year-old one step closer to victory. 
Watch The Voice on NBC Mondays and Tuesdays at 8/7c and next day on Peacock.