NBC Insider Exclusive
Create a free profile to get unlimited access to exclusive show news, updates, and more!
Sign Up For Free to View
Why Camila Cabello Was 'Starstruck' by the 'Masterful' Kim Cruse
The Texas native took on a rock n' roll classic.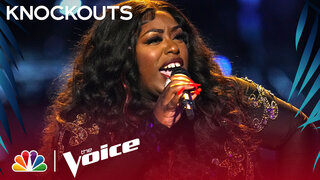 Team Legend's November 7 The Voice Knockout was full of powerhouse women, which resulted in a three-way face-off full of stirring performances. However, one musician stood out from the rest.
The Marilynds, Emma Brooke, and Kim Cruse each chose a song that they felt would put their best foot forward. But it was Cruse's soulful take on Ann Peebles' "Can't Stand the Rain" (famously covered by Tina Turner) that had them wanting more.
"You are so good at picking the right moments to shine," Gwen Stefani said. "It's mind-blowing. It doesn't make sense on paper that you can actually sing like that. I wanna see it again. Can we rewind it?"
Camila Cabello agreed and said "the stage was set on fire" following Cruse's rendition. "Kim, you were a dragon up there," she said. "You've always been one of the most gifted and masterful vocalists of the show, but today I was starstruck."
When it came time to make the final decision of who would move on to Lives, Legend agreed with his peers.
"Kim, you have all these gifts, and then you do all these little things that just make it seem like you wrote the song," he said. "You own it with every moment and you do it with such precision and then with such fire at the same time. It's just stunning to watch."
He continued, "I had to pick Kim because she's just a world class vocalist. She commanded the stage and was just so intentional with everything she did. America's gonna love her, she's so great."
Watch The Voice on NBC Mondays and Tuesdays at 8/7c and next day on Peacock.