NBC Insider Exclusive
Create a free profile to get unlimited access to exclusive show news, updates, and more!
Sign Up For Free to View
Why This Week's Knockout Brought an Emotional Gwen Stefani to Tears
"I'm just proud, can you tell I'm proud right now?" Stefani said through tears.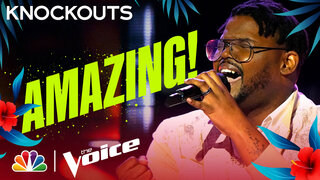 We all know that The Voice Coaches have to make some tough decisions week-to-week as they're forced to choose between unparalleled talent. So it's no surprise that the  Knockout on November 7 made Gwen Stefani emotional.
Following Cara Brindisi, Justin Aaron, and Kayla von der Heide's performances, Stefani was stuck with what she called an "impossible" choice. And her fellow Coaches did their best to make her decision the tiniest bit easier. Particularly Camila Cabello, who joked that she felt a special connection with Aaron.
"To me, this was the sexiest Knockout. Justin, did we have a moment or did I imagine it?" Cabello said of the Junction City, Kansas native's rendition of "Can We Talk" by Tevin Campbell. "Because he pointed at me, and I literally was flustered. I was like, 'Should I get on stage right now?' I was shaking what my momma gave me for you."
However, when it came down for Stefani to reveal her pick, she offered heartfelt words to her team.
"I'm so emotional right now, we had so much fun together," she said as she wiped away tears. "Just to be able to share and to, like, watch you grow, is just so unbelievably fulfilling to me... I'm just proud, can you tell I'm proud right now?"
In the end, Cabello's words may have had some sway, as it was Aaron who moved on to the Live Shows. Stefani explained that his continued progress set him apart from the rest. 
"Justin, he was performing it for me [during rehearsals], and I was like, there was no swag," she said. "And it was, like, 10 times flirtier on this stage right now. It was so good."
She added, "He really took his gift to another level. He doesn't fully realize how gifted he is. He's so coachable. There's no way that America's not gonna fall in love with him. We're just getting started."
Watch The Voice on NBC Mondays and Tuesdays at 8/7c and next day on Peacock.