NBC Insider Exclusive
Create a free profile to get unlimited access to exclusive show news, updates, and more!
Sign Up For Free to View
How Camila Cabello Beat Gwen in the Battle to Steal 'Boyfriend' Jaeden Luke
Jaeden Luke lives to fight another day!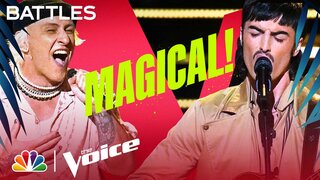 Jaeden Luke lost his Battle against Bodie on The Voice Season 22, Episode 9. (They sang a seriously sexy arrangement of "As Long as You Love Me" by Justin Bieber.) However, this wasn't the end of the line for him: Both Camila Cabello and Gwen Stefani attempted to use their Steals on Luke, so he had a tough decision to make. 
If you've been watching the season, though, you know Luke and Cabello have had a harmless, innocuous flirtation going on—just for fun show color, but still. Cabello's even playfully called Luke her "boyfriend" a few times, but that, of course, didn't guarantee she'd securely get him on her team. She had to duke it out with Stefani. 
"Jaeden, you know we have something special," Cabello quipped while pleading her case, to which Stefani bemoaned with faux frustration, "That's not fair!" 
But Cabello kept the flattery going, telling Luke, "...In all seriousness, I think your voice is really special. And I think it'd be interesting to see what we could do together, because I like left-of-center people." She then added as a joke that if he didn't choose her team. "I will break up with you!" 
That's hard to follow up, but Stefani also sung Luke's praises to him. "I have been around for a long time. I have a lot to offer. I'm a super-fan of your style of singing and your voice. I'd love to be your Coach," she said. 
Ultimately, he chose his "girlfriend" Cabello. "I can't say no to my girlfriend," he said with a cheeky grin. And just like that, the game's been changed up! 
Watch The Voice on NBC Mondays and Tuesdays at 8/7c and next day on Peacock.