NBC Insider Exclusive
Create a free profile to get unlimited access to exclusive show news, updates, and more!
Sign Up For Free to View
Stabler Just Tried to Kiss Benson on Law & Order: SVU—And It Was Emotional
After 24 seasons, Benson and Stabler may have passed the point of no return.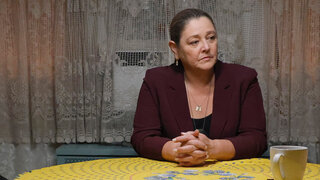 Calling all Bensler fans, this is not a drill: Elliot Stabler (Christopher Meloni) tried to kiss Olivia Benson (Mariska Hargitay) on the January 26 episode of Law & Order: Special Victims Unit.
The almost-kiss moment has been a long time coming for those who have been rooting for Benson and Stabler to get together. While the two have attempted to keep their friendship professional, the line between partner and "something more" has always been blurry. But with both parties now single and in the city since Season 22, that line has become nearly incomprehensible. Case in point: Season 24, Episode 12's "Blood Out." The moment when Stabler finally made his feelings known by going in for a kiss.
Some context: Throughout Season 24 of SVU, Benson has been going after the Bronx-based BX9 gang, all while processing her relationship with Stabler. Meanwhile, Stabler has been doing his own reflecting in Law & Order: Organized Crime, where he admitted he is in love with a mystery woman. All signs pointed to Benson as that person, and while many assumed Benson and Stabler might finally romantically collide, the situation has proven to be very complicated.
It all came to a head when Benson asked Stabler to pick up her son, Noah, after getting caught up in BX9 matters. There are very few people Benson would trust for the task, but Stabler is on that list, of course. Upon visiting Benson at her apartment, Stabler quickly noticed Benson's wounds and realized just how rough her ordeal has been. Stabler and Benson hadn't talked in a while, but Stabler seemed hurt that Benson didn't think of him for support with BX9. The shock of it all sparked Stabler to ask Benson why she didn't reach out for help. 
"Why didn't you call me?" Stabler asked.
"Because I knew that you would try to protect me," Benson admitted while avoiding Stabler's eye contact.
"Is there something wrong with that? I care for you," Stabler explained while scanning Benson's every movement. "Liv, look at me."
Benson and Stabler finally locked eyes, and the chemistry between the two ignited. As Benson and Stabler inched closer, it became clear: They may have officially passed the point of no return. But just as Stabler leaned in for a kiss, Benson pulled away at the last moment. 
"Elliot I want to. I want to, but I can't," Benson admitted, clearly conflicted. 
"Why not?" Stabler asked (along with every SVU fan rooting for Bensler).
"Because what if it doesn't work out?" Benson revealed, echoing the worries she shared with Rollins during the midseason finale about ruining their longtime friendship.
"And what if things work out?" Stabler counters. 
"Elliot, I'm not ready for this," Benson said.
How will this almost kiss impact their future relationship? Will there be a point when Benson is ready for Stabler? Only time will tell. 
Find out what happens to Benson and Stabler by watching Law & Order: SVU on NBC Thursdays at 9/8c and the next day on Peacock.